Some are saying that 2019 will be the year of the foldable smartphone and that the trend established this year will last for a decade or so. Only yesterday we saw another take on the foldable format from Lenovo-owned Motorola, seeking to rekindle its RAZR brand for the sleekest foldable we have seen so far, albeit only in patent drawing form. Previously Samsung showed off only the briefest glimpse of its foldable (recently teased for MWC), and Royole gained first-mover headlines with its rather inelegant FlexPai.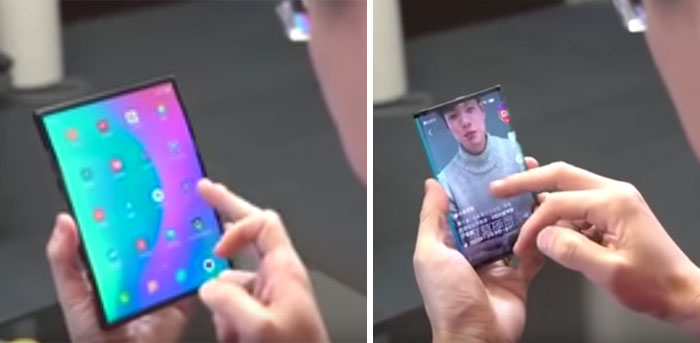 Open, then folded into smartphone mode
Chinese smart devices and technology firm Xiaomi has been gaining traction in the west recently with improved distribution and presence here in the UK, for example. It is sometimes highlighted for offering a tempting mix of specs and value – growing the brand in a position that undercuts the flagship devices from likes of Samsung and Apple. Now we have seen the first foldable design from Xiaomi, thanks to a Tweeted teaser video featuring the company president.
In the video, embedded above, you can see Xiaomi president and co-founder Bin Lin giving an unnamed #foldingSmartphone a test drive. The video starts by showing the smartphone screen fully opened, like a small tablet. As a rough guess I would say the opened-up size of the screen is about 6x4-inches, that's a 7.2-inch diagonal. It is possible to see that the phone isn't absolutely flat in this mode in the video demo.
About half way through the video Mr Lin decides to fold the device up into a more compact mode, and it adapts to look like an 'edge' screen device from the front. The proportions look somewhat like the boxy original Samsung Galaxy Note, sans bezels.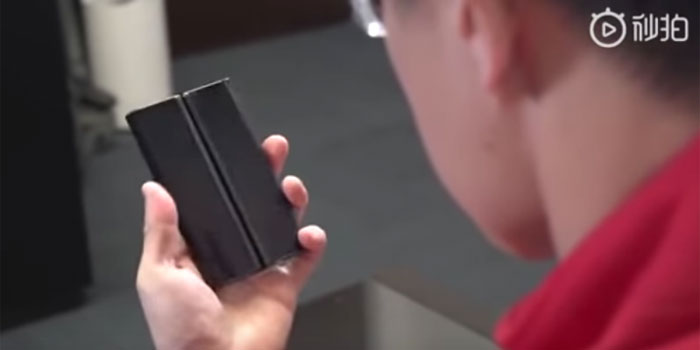 Rear of the folding smartphone
In the original Weibo post, Mr Lin asks his followers for feedback regarding the demonstration. The challenges of "flexible folding screen technology, four-wheel drive folding shaft technology, flexible cover technology, and MIUI adaptation," were overcome to build this prototype, he explained. Lin added that "If you like it, we will consider making a mass production machine in the future".