Two of the most eagerly awaited upcoming smartphones have been subject to some big leaks over the last few hours. Key information about the Apple iPhone 8 and an icon showing off its form has been accidentally revealed by Apple itself. Meanwhile, perhaps Samsung made no slip-up, but arch leakster Evan Blass has nevertheless sourced and published a clear full frontal shot of the Samsung Galaxy Note8 (in Midnight Black) today, followed up by some further detailed shots.
Apple iPhone 8
There have been previous rumours concerning the inevitable Apple iPhone 8. Much of the chitter chatter has concerned the progress towards an all-screen front for the smartphone, and the move to OLED displays in the flagship model.
Last week Apple released some firmware for its HomePod smart speaker and by accident revealed some interesting details about the iPhone 8. Within the firmware files Steve Troughton-Smith found a key fact: that the next iPhone will be unlockable via IR facial recognition.
Digging within the HomePod resource files Troughton-Smith found references to the "infra-red face unlock in BiometricKit, the framework behind Touch ID," reports TechCrunch. Apparently this IR unlock works in the dark and at obtuse angles, even with part of your face blocked out. If it's as secure as fingerprint unlock, and as fast, then it sounds rather good.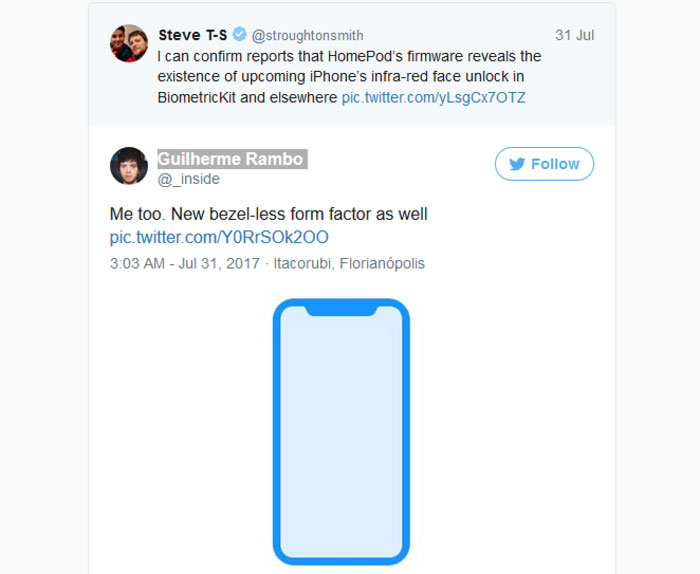 In a Twitter exchange, Troughton-Smith was joined in his investigations by Guilherme Rambo, who discovered an icon showing the iPhone 8's bezel-less form factor (see above). Currently codenamed D22, the smartphone is all-screen on the front face but with a small half-lozenge shaped area at the top where the speaker and camera reside. TechCrunch says this confirms previous leaks and rumours.
Apple iPhone launches usually occur in September.
Samsung Galaxy Note 8
Earlier today Evan Blass, AKA @evleaks, revealed a clear frontal shot of the Samsung Galaxy Note 8 (in Midnight Black). The picture confirms rumours that the Note 8 will follow in the 'unboxed' minimal bezels style pioneered by the Galaxy S8.
Unfortunately we don't have any further new information to share about the Note 8. However, a VentureBeat report from June provides some probable key specs such as a 6.3-inch screen, top-of-the-line Exynos 8895 / Qualcomm Snapdragon 835 chipsets, dual cameras, and 6GB of RAM.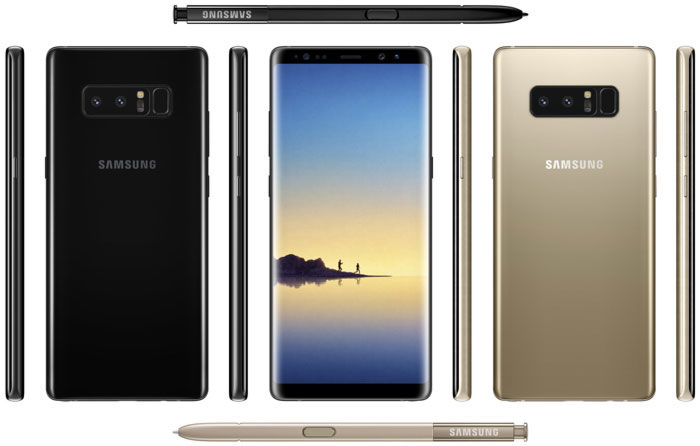 The Samsung Galaxy Note 8 is due to launch in September. Reports say it is likely to cost about €1,000, almost as much as one of the premium iPhone 8 models.