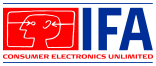 The one question that AMD's probably been asked more than any other is , "Just what is AMD Live!?". Well, at the IFA 2006 show in Berlin, the company set out to graphically respond by having a large part of its stand set up to represent various rooms in a typical home.

This demonstration of how AMD Live! works underlined the fact that - unlike Intel Viiv - this is not about enforcing a new set of standards (and possibly DRMs) that everyone must conform to. It also made clear that this is not some clever wheeze to get you to buy an additional PC to put in the living room alongside the TV set.

Instead, AMD Live! is an initiative (okay, it's also undoubtedly a spoiler for ViiV, too) that brings together a range of hardware and software to let you make best use of digital media across your home network - running a powerful PC with enough grunt to serve up video, audio and stills while being used for word-processing, web-browsing, email or even gaming.

AMD has carried out research showing that a large proportion of UK PC owners don't have computers in the living room - and don't necessarily want them there. The PC sits in a spare room or perhaps the bedroom but, most frequently of all, in the dining room - and that's sometimes a separate room or often - in homes that have gone open-plan - up the other end of the living room.

The research confirms that families use their PCs for a whole variety of things. So the last thing that mum and dad want when catching up on the omnibus edition of

Eastenders

is little Johnie nagging them to let him blast away on

Counter Strike

on a PC directly connected to the main TV set. Similarly, they don't fancy the idea of Herbert and Hanna telling them they absolutely must watch telly NOW when what the parents need to do is figure out their tax returns online.

And this is why AMD Live!, though focusing on the PC as the centre of your home media system, is all about keeping the PC out of the living room while still giving you access there to the media stored on it.

AMD is spearheading a drive among hardware makers to produce more capable PCs that will allow users to share and enjoy their media irrespective of what else the PC is doing at the time.

The company is working with PC system builders to produce machines that carry an AMD Live logo but, really, all that means is that the PC has good enough components (and is sufficiently powerful) to sit feeding media through the home network while carrying out other tasks.

In truth, a similarly spec'd PC with an Intel CPU would be equally suitable - a fact that AMD happily admits and which massively separates its way of thinking from Intel's.

AMD is also working with the makers of various external hardware boxes that enable media to be chucked around the network. For example, Logitech, whose Wireless DJ system integrates with an AMD Live! PC to allow you to stream any music from any source to any source whilst still giving you full control of your music catalogue.

Or take the DDream-X5. You can stream media to and from the DDream-X5 - the box working to decoder external signal sources and then passing the resulting output through the AMD Live! PC to any other capable outlet.

So, AMD Live! really is very different from the highly-proprietary Viiv way of doing things that Intel wants you to buy into and also goes beyond just using a Windows Media Centre Edition PC along with a media extender, such as an Xbox 360.

Thoughts on Live!, Viiv or around-the-home digital networking generally? Share them with us in this thread in the IFA 2006 forum.


HEXUS.links
HEXUS.community :: discussion thread about this article
IFA 2006 :: Live report from the AMD Live! booth
All HEXUS IFA coverage :: IFA - Internationale Funkausstellung - Berlin 2006

External.links
AMD - AMD Live! home page
Intel - Viiv home page