Digital delights?
British Pop Art legend David Hockney has swapped canvases for iPads to show off his latest arty creations in a Paris art show called Fleurs Fraiches.
While Hockney is known for adopting Apple's technology to work on, the tablets will display his latest work in a new exhibition, according to the BBC.
Hockney reportedly said: "Who wouldn't want one? Picasso or Van Gogh would have snapped one up," and is rumoured to have extra large pockets in his tailored jacket to carry an iPad.
The exhibition is said to includes 12 iPads displaying the artist's drawings of flowers and signature and the images are 'refreshed' to show new flowers replacing the earlier ones.
Here is one of his floral works, courtesy of the BBC's website.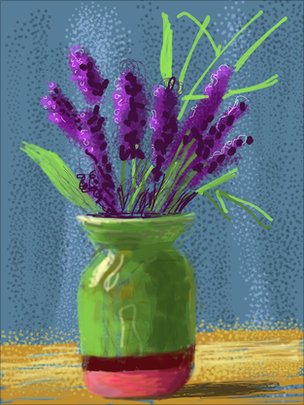 While Hockney has dabbled with technology over the decades to produce iconic works such as his photo montages, he now believes modern computers are fast enough to draw on. He is also reportedly enthusiastic about the iPad's ability to animate drawings.
"I can see just how I've made the strokes to form the drawings" he reportedly said.
Hockney told the BBC he started emailing small drawings he made on his iPhone to friends and developed the idea of holding an exhibition showing off his iPad work from that.
Visitors to the exhibition are able to see the process of the created works on the iPad up close and Hockney is believed to use several apps including 'Brushes' to draw the pictures.
Many critics have said the exhibition questions the nature of 'original' artworks as well as the value of the work. The gallery's curator, Charile Scheips reportedly believes Hockney's exhibition could spark a new artistic revolution and level the playing field for pros and amateurs.
Hockney reportedly said: "Even though some of the tools may be too advanced for the novice or amateur, they are still extraordinary and well worth exploring. It's a real privilege to make these works of art through digital tools which mean you don't have the bother of water, paints, and the chore of clearing things away. You know sometimes I get so carried away, I wipe my fingers at the end thinking that I've got paint on them."