The official Raspberry Pi touch screen has been launched and is available immediately at selected retailers. This plug-in screen has been two years in development, much longer than expected, due to wrangling with standards, connectivity and manufacturers. Its key specs include its 7-inch diagonal size, an 800 x 480 pixel resolution, offering 10-point capacitive touch.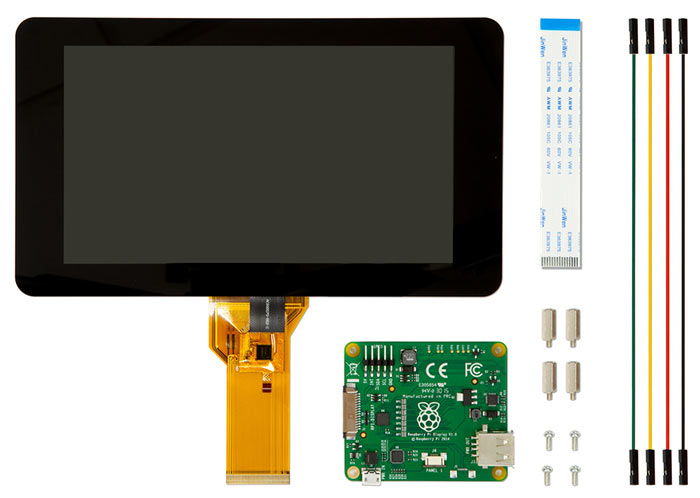 The Raspberry Pi Foundation wanted to make sure that the screen fulfilled requirements of colour and pixel quality, contrast ratio and viewing angles, affordability and manufacturing lifetime. In the end the team chose an industrial-quality display from Inelco Hunter, who are based in the UK. The finalised specs of the retail display are as follows:
RGB 800 × 480 display @60fps
24-bit colour
FT5406 10 point capacitive touchscreen
70 degree viewing angle
Metal-backed display with mounting holes for the Pi
Once you have your display you can connect and power it either with a separate power supply (at least 500mA) or via the 'PWR OUT' GPIO connector from the Raspberry Pi. If you want a stand for the display it is suggested that you try a 3D printed one designed by a Raspberry Pi enthusiast and available on Thingiverse. If you don't have access to a 3D printer you could make a very similar thing out of wood with a scroll saw and a router.
As the Raspberry Pi touchscreen display uses the device's DSI (Display serial interface) connector it is now possible to run two displays from the machine; the touch display connected via DSI and another monitor via HDMI. With its touchscreen, using the latest drivers and on-screen keyboard means you no longer need a keyboard and mouse to interact with your Raspberry Pi.

This isn't the first screen made for the Pi, just the first official one. As mentioned in the intro, it is available right away. In the UK it's available from the SWAG store for £48. It is also said to be available from RS Components/Allied Electronics and at Premier Farnell/Newark. The display is supplied with an adaptor board, a DSI ribbon cable, stand offs and screws, jumper wires and your choice of Perspex layer frame. It is compatible with the Raspberry Pi 2 Model B, Raspberry Pi Model B+ and Raspberry PI Model A+.