An interesting new device, developed by two ex-Microsoft employees, has launched on Kickstarter. The internet connected device is the about the same size as a humble microwave oven but is dedicated to the noble art of brewing craft beers from grain and hops. This is "the world's first fully automatic all-grain beer brewing system". The PicoBrew Zymatic: Automatic Beer Brewing Appliance already looks like it will be a Kickstarter success story as it has raised $100k of its $150k goal in one day, with 29 days to go.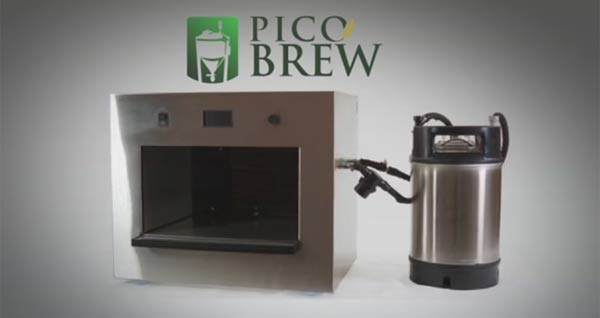 Bill Mitchell, CEO and Co-Founder of PicoBrew LLC, worked at Microsoft "pioneering efforts in PDAs, smartphones, automotive and wearable computing". He left MS a couple of years ago to work with his brother and develop a proof of concept brewing machine based on an off-the-shelf Arduino-based controller, off-the-shelf pumps, relays, valves and a custom heating loop.
Mitchell's inspiration was the question "Why can't we brew beer at home as easily as we can make a loaf of bread with a bread-maker, or a shot of espresso with an automatic espresso machine?" He wanted the home brewing process to consist of more art – less tedium.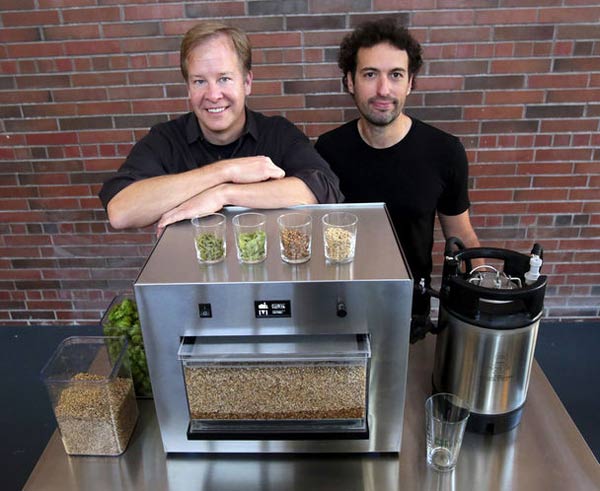 During the last three years of R&D Mitchell and his brother were joined by another key team member, Avi Geiger, who was a Microsoft hardware architect. Last year a spurt of progress was made "on a sequence of 4 custom ATMEGA controller boards, firmware, web-side services and software". Following this advance the reliability testing and repeat-ability of beer recipe testing on the machine has taken quite a lot of time.
"Now, after over 3 years, thousands of man-hours of effort and over a dozen prototypes, we're almost ready to manufacture the world's most automatic all-grain home-brewing appliance!" reports the PicoBrew Kickstarter page.
Connected to the internet brewing community
Internet connected software is important to the PicoBrew Zymatic functionality. "PicoBrew Recipe Crafter is web-side software we've created that allows you to easily craft recipes that turn out precisely on spec., both for you and for any other PicoBrewer," says the PicoBrew team. Furthermore "You can also import existing BeerXML-formatting recipes, and Recipe Crafter will scale them to the PicoBrew system for you. At last, great beer recipes can be brewed reliably and repeatably!" (Even though I am very interested in both tech and beer I admit BeerXML is new to me.)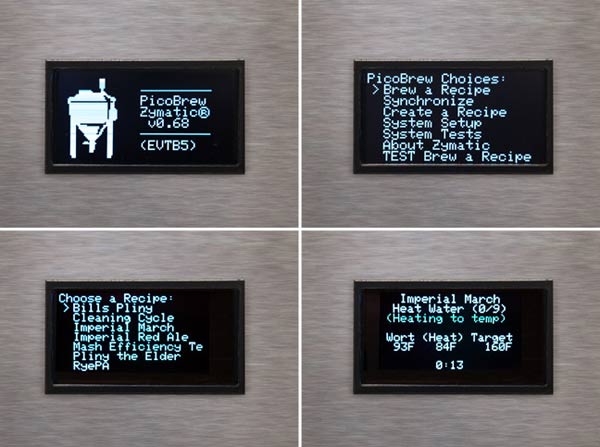 PicoBrew Zymatic menu system, dialling in a brew
Big pledge of $1,399 required to secure this applicance
This Kickstarter project has been very popular already, as mentioned in the introduction. Backers who want to get their hands on a PicoBrew Zymatic machine early in 2014 are expected to pledge $1,399 (at the time of writing 32 of these machines are left), and soon it looks like only $1,499 machines will be available.