For those who've not yet heard of Parrot's AR.Drone, the device is perhaps the ultimate consumer UAV, a light-weight quad-copter with front and bottom cameras, enabling users to fly the device from wireless enabled devices including tablets and smartphones, almost as-if flying a craft in a computer game.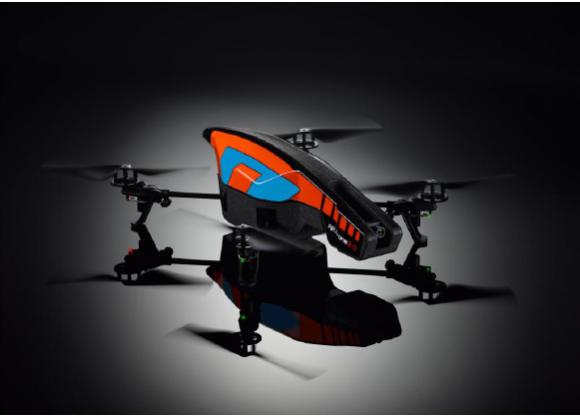 Unveiled for the first time at CES 2010 and winning an Innovations award, this year Parrot is demonstrating its refreshed AR.Drone 2.0. The new Drone now features a 720p front camera for HD filming and software has been updated to support recording of the streaming video feed along with all flight data. The device also sports an enhanced shape, with new sensors and software modifications focusing on flight stability, including a new pressure sensor and magnetometer.
With the copter software now utilising the on-board magnetometer, a new 'Absolute' flight mode has been introduced, the Drone is now aware of its exact orientation relative to the user's smartphone/tablet and so there's no-longer any need to be aware of the copter's orientation.
Parrot has also announced a new Open Development Platform, enabling developers to integrate the AR.Drone into their own games and apps. The device already supports various first-party Augmented Reality games and it'll be great to see what content a grander pool of developers can come up with.
The device is slated for release in Q2 2012, with a retail price of $299 (likely £250). This writer for one can't wait to place his hands on the AR.Drone 2.0.
AR.Drone 1.0 user videos