If bridging the gap between TV and the Internet takes your fancy, PCTV Systems is launching the Broadway 2T - which claims, to do just that at an SRP of £229, including VAT.
The little box of tricks apparently empowers users to view live TV (or other video signal feeds) on-the-go (3G or Wi-Fi), with a range of Apple devices - such as the iPhone, iPad or Mac - through to PCs, laptops and even netbooks. The manufacturer adds that support for Android powered devices will be delivered during this quarter.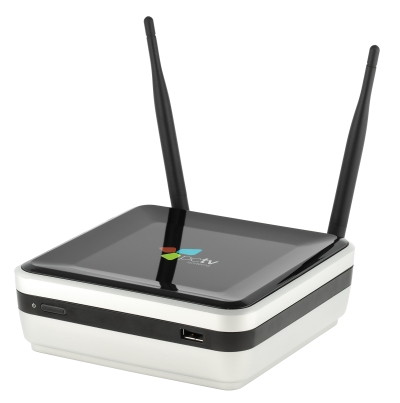 The Broadway 2T uses MPEG-4 H.264 hardware compression and we're told that content can be viewed via a web browser, or in respect of PCs, by also using the included TVCenter 6 software. With 802.11n wireless support and dual DVB-T tuners, the unit accepts feeds from a DVB-T aerial, for example, connects to a Wi-FI router and then works its magic to convert the live TV signal into H.264 format, for wireless streaming.
A/V input connectivity also allows for the Broadway 2T to be used as a remote surveillance solution, when used in conjunction with an analogue camera.