Introduction
There are many reasons why you may want to capture gameplay footage from your Xbox 360, PS3 or Wii games console. Maybe you're a videogame blogger or website editor that wants to brighten up your site with video reviews or features, or a walkthrough writer who wants to demonstrate how to dispatch a big boss with the minimum of fuss, or perhaps just an avid YouTuber keen to showcase your sharp-shooting skills to the world.

Whatever the case, if you're in the market for a device that helps you share your gaming exploits to the masses, then the Hauppauge HD PVR Gaming Edition may be right up your street. Designed specifically for gamers, this compact black box offers an alternative, less complicated solution to an internal PC capture card and attempts to make things as easy as possible to record video directly to your computer at resolutions of up to 1080i.

Claiming to be the word's first video recorder for making real-time H.264-compressed recordings from your consoles, the Hauppauge HD PVR measures 7.75in wide x 6.80in deep x 2.75in high and is very lightweight at just 1.2kg. Decked out in glossy jet black, with a raised dark grey panel in the centre of the unit, its square-shaped design is fairly unremarkable, while its cheap-looking plastic casing doesn't seem all that robust, not for its fairly hefty price-tag of £199.99.

Nonetheless, it's unlikely you'll need to move the HD PVR around once you've got it into place on or near your desktop, and when you do power it up it gains a few style points thanks to the bright green LED that glows from the unit whenever you capture footage.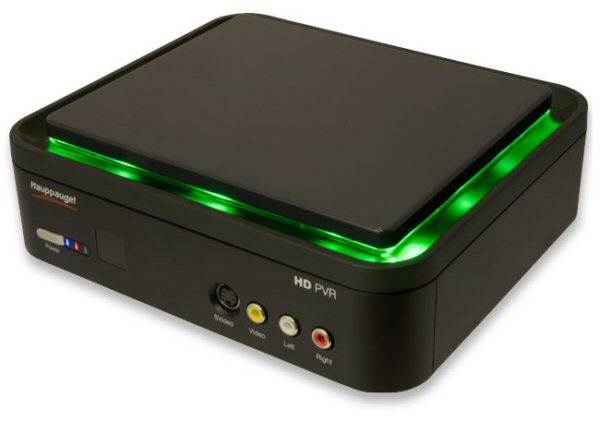 If you're new to video capture and editing - and not the most technically-minded gamer - the mass of cables that comes bundled with the HD PVR may be a little off-putting, but set-up is relatively simple. After some desktop reshuffling it took me no more than 10 minutes from the moment I'd unboxed the unit until it was setup and ready to capture footage.

Hauppauge has included everything you need to get started and provided crystal-clear instructions with pictorial directions in its manual to get you up and running with ease. In the box, you get a component video cable set that handily splits into three connectors that fit into the back of your Xbox 360, PS3, or Wii - with the other end slotting directly into the video-in slots on the HD PVR.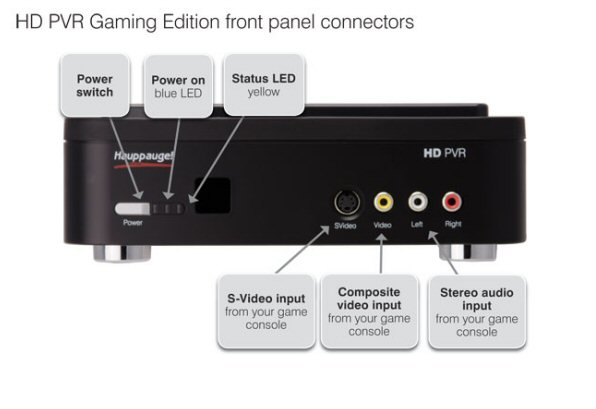 Another component video cable set then connects from the HD PVR to your HDTV, along with the two channel stereo audio cable set. Via the optical audio slot on the back of the HD PVR you can achieve Dolby AC3 sound, but the cable for that isn't included as standard. Finally, a USB lead connects from the HD PVR into the USB port on your PC.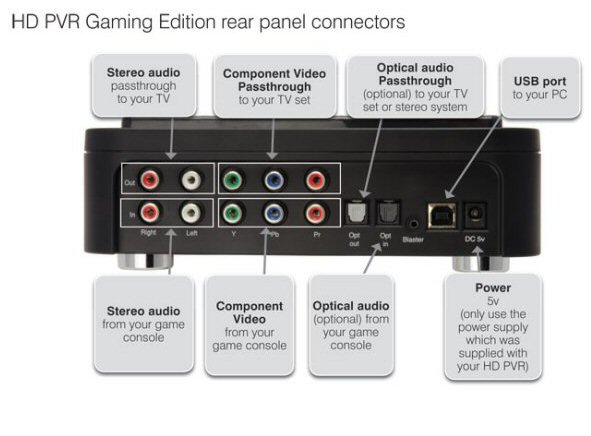 Squeezing my PC monitor, HDTV, games console and HD PVR into one space took some doing. It's a lot of equipment to have in a short space and I certainly would have benefited from having leads that were more than 1m long, but once you're setup it's no fuss to quickly unplug the cables and tidy up your desktop and bring out the HD PVR only when you need it.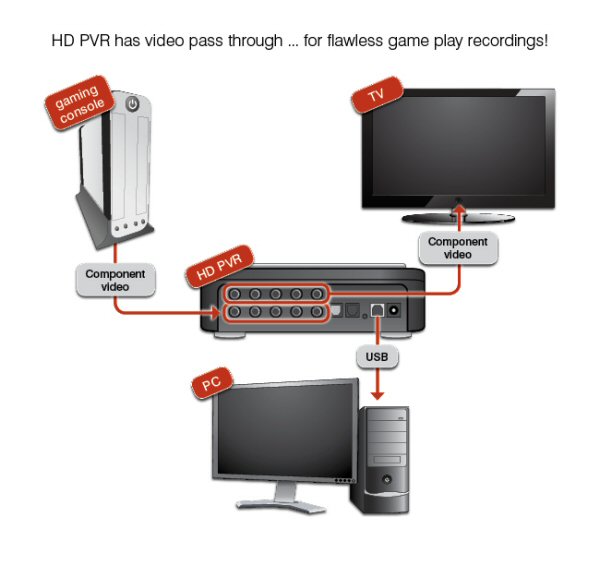 With everything connected and switched on, it's time to capture some footage…