Google's grand debut into our living rooms is rumoured to be approaching fast, but the first product to integrate the search-giant's software may now be only two weeks away.
An invitation to a Sony press event - scheduled for October 12 in New York - proudly promises to introduce the "World's First Internet Television". Though the invite makes no mention of the Android-powered platform, it isn't hard to put the pieces together. The Japanese electronics-giant is a key partner in Google's TV strategy and 'internet television' is a fair description of what the companies are trying to produce.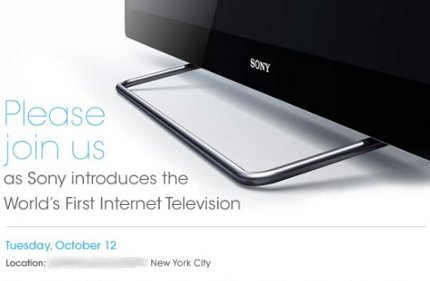 Previous rumours had the platform scheduled to launch on October 3, though reports from Best Buy surfaced two weeks ago suggesting that the launch had been delayed until October 17 for an unknown reason. However, hosting a press conference on the Tuesday could perfectly set the stage for units to arrive at retail early the following week.
Obviously, we've known for some time that Sony will be launching Google TV-enhanced sets and Blu-ray players, and as a key player it comes as little surprise that the company will be the first to show off its wares. Nonetheless, the product launch is now getting very close, so it will be interesting to see exactly how the manufacturer has managed to integrate the platform into its TVs, as well as how well it all works.
Are you getting excited for the next stage of your search-enabled life, or do you prefer your TV watching experience to be decidedly disconnected? Let us know in the HEXUS.community.