CES 2009 is full of so many goodies and gadgets that you soon begin to lose interest after seeing one stunning 50in LCD followed by another.

What would I buy as a purely impulse purchase if I won the lottery, is something that I've been musing when walking around the show floor bringing stories to the page.

One of the items would have to be Kodak's OLED-driven, wireless photo frame that currently retails for a staggering $999.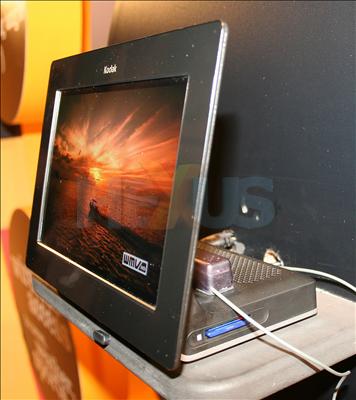 Whilst not disarming with respect to aesthetics, the 7.6in screen features an 800x480 (16:9) panel. Nothing really surprising about that. The magic is with the OLED technology that delivers a pin-sharp picture and perfect viewing angle that would put any LED-based display to shame.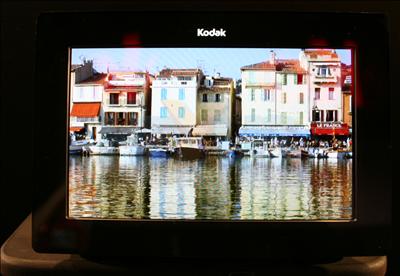 The picture, above, doesn't do it a shred of justice; you have to up close and personal to see the vivid the colours appear, to the extent that it's almost painful to look at for extended periods.

Kodak reckons the screen has a 36,000:1 contrast ratio and it's easy to believe for once.



Adding to the bling factor are bezel-mounted buttons that aren't immediately obvious. Touch the bezel and the frame lights up.

For what it's worth, the OLED frame has a 2GB internal memory and wireless ability to pull pictures from a PC or to access content online from sites such as Flickr and the FrameChannel.

OLED technology is simply too expensive to be a value proposition anytime soon, especially as larger panels are required, but, boy, do they look good.

Let's put $1,000 on black and see if it comes up trumps.

Click here for all CES 2009 content

.