New 5.6, 7 and 8 inch models debut

Philips today expanded its Digital PhotoFrame range with the introduction of six, seven and eight-inch models at CES. Sticking to the simple formula of its previous models, the new frames don't boast fancy features such as Wi-Fi but do promise new technologies that "enhance screen colour and contrast for an unparallelled showcase of priceless images".
The new frames feature RadiantColor, a Philips innovation that'll extend the colour on the edges of a less-than-full-screen photo to the sides of the screen. Available in 5.6", 7" and 8" models, the frames provide two memory card slots and a USB connector. Prices range from $69.99 to $139.99 and availability is listed as Q1 2008.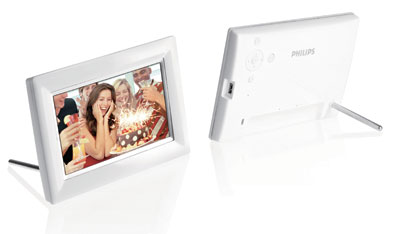 Official press release: Philips' New Digital PhotoFrame™ displays offer new sizes, improved picture color and contrast