Today the first Steve Jobs biopic gets released, and it will be free to watch on Funny or Die. With several Steve Jobs biopics in the pipeline the creative team at Funny or Die (FoD) thought it would be fun to do a fake trailer for their own version. Usually the team stops at that, there are lots of such trailers on FoD, but when someone suggested going on to make a full feature film they decided to go for it.
The trailer for the iSteve film was released a couple of weeks ago and, as AdAge sums it up, gives us a glimpse at a production that will be "everything you'd hope it would be -- cheesy, cliched, breathless, overwrought, overheated". There's lots of material for satire here and FoD will probably make the most of that in its usual unsubtle way.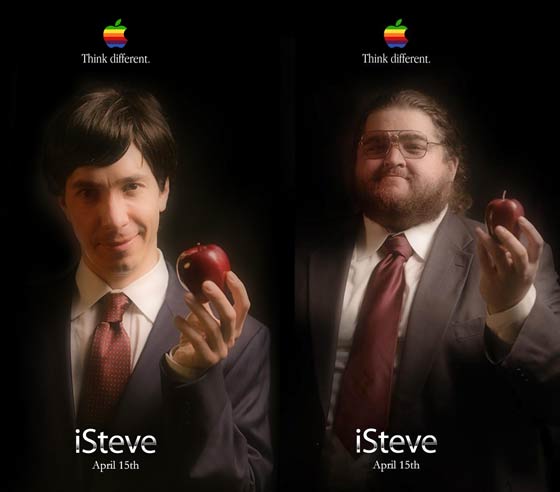 The FoD iSteve film stars Justin Long as Steve Jobs - he was the "Mac" in the Mac vs PC ads that ran in the US. Meanwhile Steve Wozniak is played by Jorge Garcia from the TV series Lost.
iSteve Producer Allison Hord, speaking to Bloomberg TV, said that "We went out to Justin Long's place and he told us he could shoot the next week. So we wrote the script in three days and shot it in five!" When asked if she thought the film could "backfire" Hord said "we're having some fun with creative license" but added that it's a respectful yet entertaining film.
Writer and Director of iSteve, Ryan Perez, also talked a little about the new film to the New York Times. He told how he researched the film by having a quick glance through Steve Jobs' Wikipedia entry; "In true Internet fashion, it's not based on very thorough research — essentially a cursory look at the Steve Jobs Wikipedia page". He added that "It's very silly. But it looks at his whole life."
The "Jobs" biopic starring Ashton Kutcher still has no firm release date. Another film, made by Sony and written by Aaron Sorkin is also on the horizon. At least you can watch this one for free tonight, so get some popcorn in...