British cinemagoers have suggested that the hype about 3D films is just a phase, according to a new survey by YouGov.
Of the 2,796 adult film goers surveyed, a staggering 49 per cent said that the hype surrounding 3D would pass, while 41 per cent stated that "3D films are a gimmick, and don't improve a film".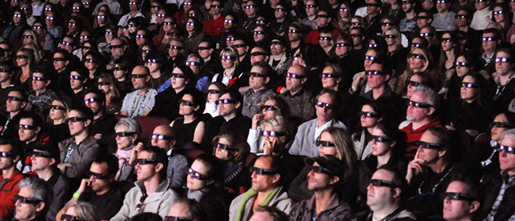 Just 22 per cent felt 3D improved the overall cinema experience, but 47 per cent admitted that if a film was being shown in both 3D and 2D at the same time, at the same price, they would choose the 3D option.
The survey also revealed that while 52 per cent of participants would be more likely to watch a 3D film if they didn't need to wear glasses, the majority don't see 3D movies as an effective solution to a fall in the number of people going to the cinema.
Despite the public's seeming indifference to 3D films, three of the year's highest-grossing movies - Harry Potter and the Deathly Hallows: Part 2, Transformers: Dark of the Moon, and Pirates of the Caribbean: On Stranger Tides - have all been produced using 3D technology.
Inflated 3D ticket pricing has ensured an increase in year-on-year box office takings, but cinema attendance continues to dwindle.
According to a British Film Institute report, UK cinema admissions have fallen by two per cent, and it's a similar story in the US, where cinema attendance has fallen for the fourth consecutive year.