We've already seen pictures of the Star Trek crew that'll appear in the 11th instalment of the Star Trek franchise, but we've waited a long time for a look at the new Enterprise.
Today, that wait comes to an end as Entertainment Weekly has revealed the first official look at J.J. Abrams' take on the U.S.S. Enterprise: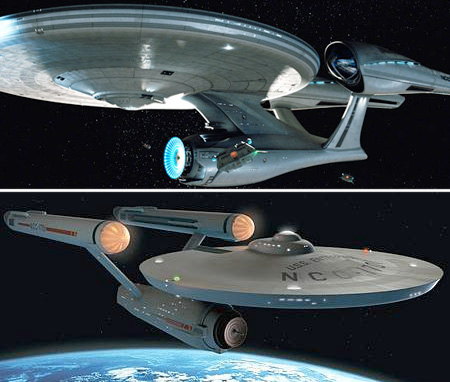 For the not-so-trekky readers, the new Enterprise is pictured above, and the original NCC-1701 is pictured below for comparison's sake.
To the certain delight of fans, the new (albeit technically old) Enterprise continues the familiar design and carries many of the original ship's traits. Speaking to Entertainment Weekly, Abrams said:
If you're going to do Star Trek there are many things you cannot change. The Enterprise is a visual touchstone for so many people. So if you're going to do the Enterprise, it better look like the Enterprise, because otherwise, what are you doing?
Wise words from a director who admits to not being a big Star Trek fan. Those of you looking to get a closer look at the new movie can expect a new trailer to be unveiled this Friday, November 14th.