Eagle Eye (cert 12A), the latest action packed thriller starring Shia LaBeouf is at cinemas everywhere from October 17. To celebrate its release, HEXUS and Paramount Pictures UK are giving you the chance to win a pair of exclusive tickets to a VIP preview screening of the film at London's IMAX.
"Eagle Eye" is a race-against-time thriller starring Shia LaBeouf, Michelle Monaghan, Rosario Dawson, Anthony Mackie and Billy Bob Thornton. Two unsuspecting Americans are separately drawn into a conspiracy by a mysterious woman they have never met, but who seems to know their every move. By the time they discover her frightening identity, they have become her unwitting accomplices in a diabolical assassination plot.
One lucky winner will receive a pair of VIP tickets to a preview screening of Eagle Eye on Thursday 16 October 2008.  The doors open at 6:00pm and the film gets underway at 6.30pm.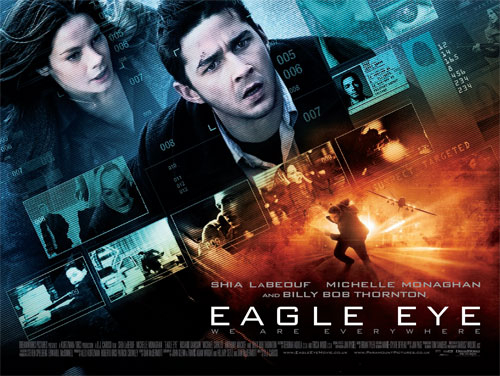 In order to be in with a chance of winning the competition, all you need to do is answer the following question correctly:
Q) Eagle Eye's original script, written by Dan McDermott, was based on an original idea belonging to which director? Is it:
a) George Lucas
b) Steven Spielberg
c) Christopher Nolan
To enter, simply send your answer, along with your name and a contact telephone number, to our competition e-mail address with "Eagle Eye" as the subject line before the closing data of 10am on the 15 October.

Eagle Eye (cert 12A) is at cinemas everywhere from October 17. To find out more about this fast paced thriller and for cool downloads visit www.eagleeyemovie.co.uk.
The competition will close at 10am on the 15 October and we will contact the winner by 12pm. You will need to be free to travel to the IMAX in London's South Bank on the 16 October. Travel & accommodation are not included as part of the prize. Your prize is non refundable or exchangeable.
Copyright © 2008 DREAMWORKS LLC. All Rights Reserved.