The Internet continues to buzz following Microsoft's unveiling of the Windows Phone 7 Series platform, but whilst the software giant was keen to show off its own latest creation, it provided little information in regards to third-party applications.
During its official unveiling, Microsoft revealed six specific content areas for Windows Phone 7 Series devices; namely People, Pictures, Games, Music & Video, Office and Marketplace. Whilst detailing the first five so-called "hubs", it offered little-to-no insight on the sixth and arguably most important hub, Marketplace.
Wanting to set the record straight, and reassure consumers who've come to know and love third-party applications, Microsoft has now provided two images that provide a sense of direction for its revamped marketplace solution.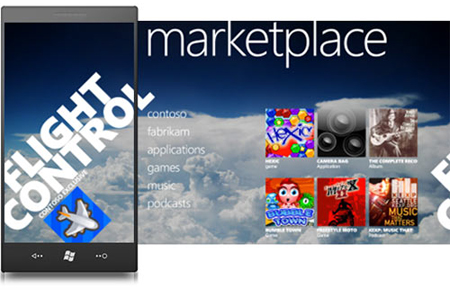 Using the same sleek, sexy, Zune-inspired interface, the Windows Phone 7 Series Marketplace will provide access to both applications and games, as well as music and podcasts - the latter presumably powered by Microsoft's integrated Zune service. (Contoso and Fabrikam, incidentally, are fictional company names used by Microsoft).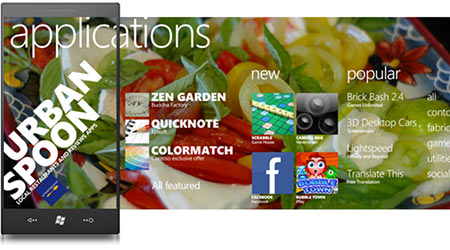 Like the platform's music and video hub, applications will be displayed using an interface of multiple vertical columns, arranged in categories that include features, new and popular apps.
It looks promising, but whilst we know third-party applications will be a key element of Windows Phone 7 Series devices, a number of questions remain. There's no indication as to whether or not Windows Mobile 6.5x apps will run on Windows Phone 7 Series devices - though, we presume the answer will be no - and similarly, there's no mention of cross-platform support for Zune HD applications.
Given Microsoft's decision to clamp down on hardware requirements, it has simplified the development process for third-party apps, but could it also team up with the Wholesale Applications Community in an effort to combat Apple's app store dominance? There are plenty of questions, and we're hoping to get some answers at Microsoft's MIX 10 conference next month in Las Vegas, an event at which Microsoft is widely expected to introduce a Windows Phone 7 Series software development kit (SDK).