Despite a few claims of overheating iPhone 3GS handsets surfacing on the web, Apple hasn't officially acknowledged the problem - if, indeed, there actually is one.
What it has done is issue a support document detailing how to keep an iPhone 3G or iPhone 3GS within acceptable operating temperatures.
According to the document, both the iPhone or iPhone 3G could temporarily stop working if the device exceeds normal operating temperatures, and users could be presented with a dim display, a weak mobile signal, the inability to charge, or the dreaded temperature warning screen: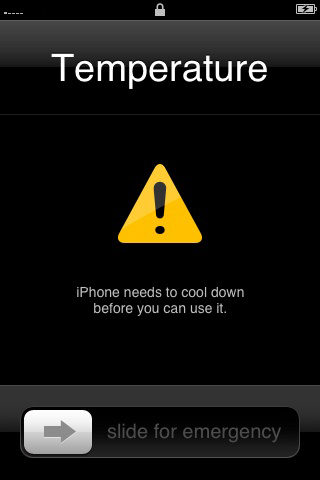 Apple states that the warning screen appears on iPhone handsets that have become too hot. It recommends turning the device off and moving it to a cooler environment before resuming use.
In the weeks following the launch of the iPhone 3GS, a number of users have reported overheating issues - with some claiming that high temperatures have led to discolouration of the handset's white plastic shell.
Have you experienced heat-related problems with an iPhone handset? Let us know in the HEXUS.community forums, and please refer to Apple's support document for further information.