At a grossly-overhyped and largely-underwhelming WWDC, Apple yesterday unveiled the next iteration of its hugely popular iPhone, the iPhone 3GS.
The handset, pictured below, will begin to ship on June 19th and will retain its UK exclusivity with the O2 network - despite recent rumours to the contrary.
With Apple delivering a message of lower-cost products throughout its keynote speech, users may have been hoping for a subsidised upgrade to the new iPhone. Sadly, that's anything but the case as O2 has confirmed that existing iPhone customers will be required to pay for the remaining time on their contract, in addition to the cost of the new handset itself.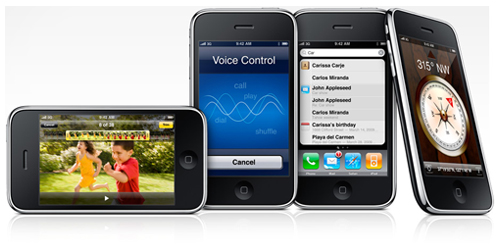 The iPhone 3GS will sport iPhone OS 3.0 and introduce long-awaited features such as cut, copy and paste, and MMS messaging, but the cost of UK upgrades has caused an uproar among O2 customers.
When the handset goes on sale at O2's stores, the cheapest contract available will carry an 18 month term priced at £29.38 per month for 75 talk minutes, 125 text messages and unlimited data. That'll be available with a 16GB iPhone 3GS for £184.98, or a larger 32GB model for £274.23.
However, existing contracted customers will be forced to pay possibly hundreds in order to buy out of their current contract, before entering another 18 or 24 month term. Without a subsidised upgrade deal, it's effectively cheaper for certain users to buy a pay-as-you-go handset outright.
O2 details its iPhone 3GS contracts as follows:
18 Months
24 Months
Tariff
£29.38
£34.26
£44.05
£73.41
£34.26
£44.05
£73.41
iPhone 3G 8GB
£96.89
£96.89
Free
Free
Free
Free
Free
iPhone 3G S 16GB
£184.98
£184.98
£87.11
Free
£87.11
Free
Free
iPhone 3G S 32GB
£274.23
£274.23
£175.19
£96.89
£175.19
£96.89
Free
UK Minutes
75
600
1200
3000
600
1200
3000
UK Messages
125
500
500
500
500
500
500
Unlimited UK Data and Wi-Fi
Yes
Yes
Yes
Yes
Yes
Yes
Yes
In addition to the costs outlined in the table above, O2 customers will also be charged an additional fee if they opt to use the iPhone 3GS' tethering functionality. Connecting the handset to a PC for mobile Internet access will be available only with an additional Tethering Bolt On - that'll be charged at an extra £14.68 per month.