Today Fujitsu announced the development of a new wearable device which aims to facilitate frictionless communications between Japanese speakers and visitors to Japan. It expects the device to be particularly useful in healthcare and claims it has achieved a world first in wearable, hands-free speech translation.
More and more foreign visitors are being treated in Japanese hospitals, says Fujitsu Labs. So since 2016 the company has been working to develop hands-free technology that recognizes people's voices and the locations of speakers, and that automatically translates to the appropriate language without physical device manipulation. At this time the device works with Japanese, English and Chinese languages.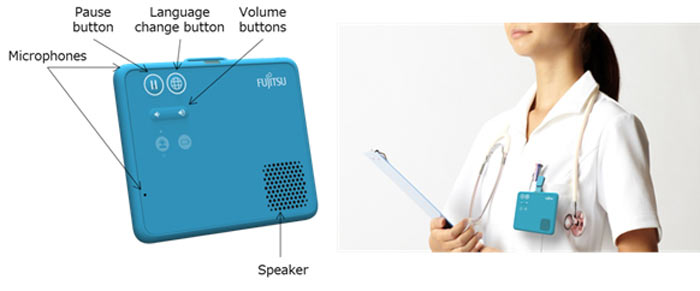 Above you can see images of the compact wearable translator, its controls and how it looks when worn. Fujitsu says ithe device differentiates between speakers using two small omnidirectional microphones, top and front. A modification of the shape of the sound channel improves speech detection accuracy and is resistant to background noise. In essence, sounds from the direction of the healthcare provider / patient are diffracted once, while sounds from other directions are diffracted twice, so are significantly reduced in amplitude.

In-house tests at Fujitsu Laboratories "achieved a speech detection accuracy of 95 per cent in an environment with comparable noise levels to an examination room in a large hospital (about 60 decibels of noise) at a natural distance for a face-to-face conversation between a healthcare provider and a patient of about 80cm".
Of course the proof of a device's worth is in a practical environment. Thus Fujitsu Labs has planned a trial of the wearable in the University of Tokyo Hospital and the National Institute of Information and Communications Technology (NICT). These two institutions have previously worked with Fujitsu on a similarly functioning tablet. The wearable will be trialled by healthcare professionals beginning in November 2017. Fujitsu has a goal of device commercialisation in 2018, not just in healthcare but also in tourism and public services.