Toshiba has announced a new series of SD memory cards which it says offer the "world's fastest data write speed". The EXCERIA and EXCERIA PRO memory cards will be launched in major markets worldwide starting from October, Japan will get them first.
The EXCERIA range of full sized UHS-II compliant cards will be made available in both 32GB and 64GB capacities, while the EXERIA PRO cards will be made available in 16GB and 32GB capacities. Both the EXCERIA and EXCERIA PRO range offer data read speeds of 260MB/s but while the PRO versions have the ability to be written to at 240MB/s the regular EXCERIA maximum data write speeds are exactly half of that, at 120MB/s.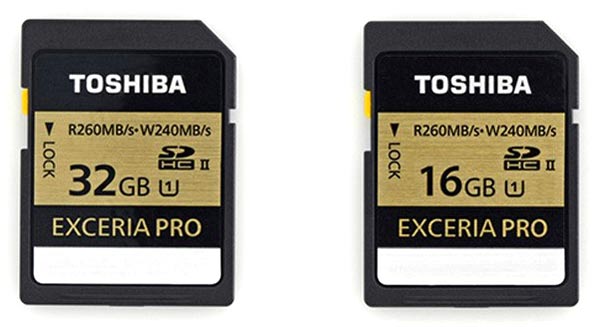 Both of these card ranges are designed to offer digital photographers the ability to shoot still images continuously at high speed, according to the Toshiba press release. Which card range might be more suitable for you will be dependent upon your equipment, its capabilities and your continuous shooting requirements. Being able to take bursts of high resolution photographs in quick succession might be of great utility depending upon your field of photographic activity. Toshiba notes that the card will appeal to video camera owners too; "Further advances in higher resolution image recording (including 4K2K video), will also fuel demand for transfers of data-rich images at high speed."
The EXCERIA cards integrate a newly developed controller compliant with UHS-II, the ultra high speed serial bus interface defined in SD Memory Card Standard Ver. 4.10. Toshiba says they achieve "significantly higher data transfer speeds" than the earlier UHS-I compliant SD cards. UHS-II is theoretically capable of delivering data at 156MB/s by single lane access and 312MB/s by dual lane access. UHS-II cards are fully backwards compatible with older devices and readers but there seems to be very few devices around right now which can make use of the extra UHS-II speed capabilities.
At the time of writing no pricing indications have been published by Toshiba.