Microsoft has at last revealed details about the holographic processor, central to the HoloLens augmented reality headset's functionality. Earlier in the year Microsoft published specs for the headset – it explained that the HoloLens was powered by the combination of a 14nm Intel Atom x86 Cherry Trail processor and a 'Microsoft HPU'. Now we have details, including a chip plot, for this HPU.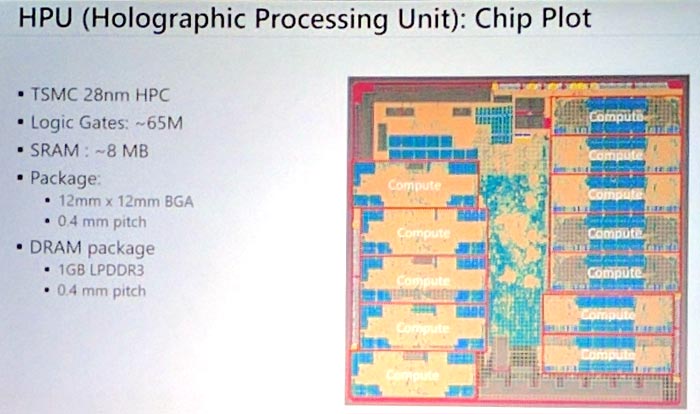 Microsoft devices engineer Nick Baker hosted a presentation at the Hot Chips symposium in California and revealed exactly what is inside Microsoft HPU, reports The Register. The HPU is a custom, TSMC manufactured, 28nm chip which gathers together 24x Tensilica DSP cores. The chip comprises about 65 million logic gates, 8MB of SRAM, and 1GB of LPDDR3 RAM, in a 12mm-by-12mm BGA package. Each of the 24 DSP cores is dedicated to a single sensory I/O computing function.

In further information, not listed on the slides but discussed at the presentation, The Register says that the HPU draws less than 10W and includes PCIe and standard serial interfaces. Data from the HPU is sent to the Cherry Trail processor in a state which is meant to minimise any further required processing, helping the real-time AR experience tick over smoothly. The Intel Atom chip has its own 2GB of RAM and runs a version of Windows 10. The passively cooled HoloLens has 64GB of storage, a battery life of 2 to 3 hours and weighs 579g.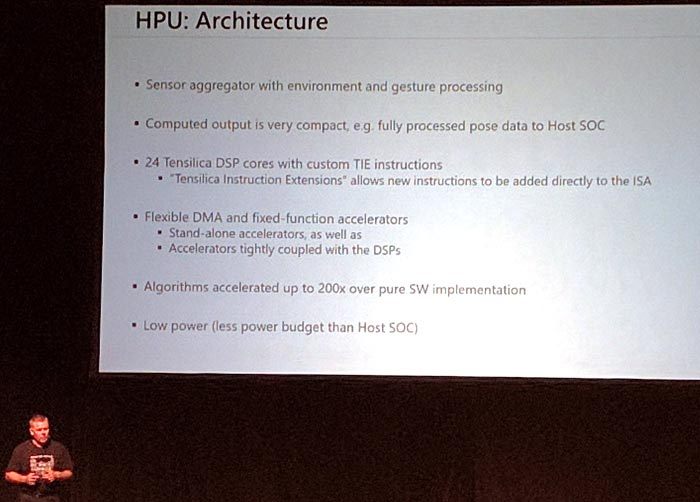 Below is an interesting recent Microsoft HoloLens partner spotlight video.