Microsoft has released a new video demonstrating the potential of its HoloLens headset in educational scenarios. The augmented reality headset appears to be particularly useful in the medical education fields. It allows people to look around the human anatomy, vital organs and so on - without any messy dead bodies, blood and guts being involved.
Case Western Reserve University is the subject of the latest Microsoft HoloLens partner spotlight video. Its medical students and teachers appear to be exceedingly happy about the capabilities of the HoloLens headset and how its 3D visuals hands-down beat classic medical book illustrations. Furthermore HoloLens wearers can look at and manipulate any of the human body's parts in 3D with translucency effects helping students understand how the body's components fit and work together in relation to each other. This 'almost reality' is great for learning and improving student confidence we are told.
HoloLens isn't confined to the medical faculty at the university. Case Western Reserve University Art History and Anthropology departments are also said to be looking at using the AR wearable in their study areas.
The above applications are very interesting but one of the key things about this new official Microsoft video is that it is the first to show the true scope of the device's field of view (FOV). In previous videos, and quite a lot of this video, we get to see Microsoft's augmented 3D models floating around what seems to be the entire field of view. However in this video there are sections which appear to show the wearer's FOV, as reported by various journalists who have tried on a HoloLens.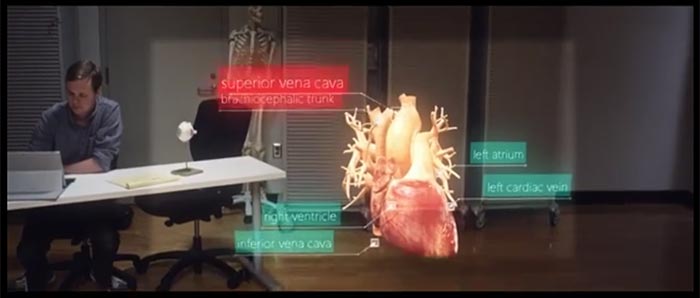 Looking at the above picture you can see the HoloLens FOV as the brighter central rectangle in the picture. Depending upon where you are and what you are doing the FOV limitation is described as being in a range from "hardly noticeable" to "profoundly annoying", reports PC World. In the video this actual view from the HoloLens is glimpsed at 48 seconds, 1min 24s, and again at 1min 37. Outside the central FOV area the 3D AR imagery is clipped. Another screen shot shows the clipping, embedded below.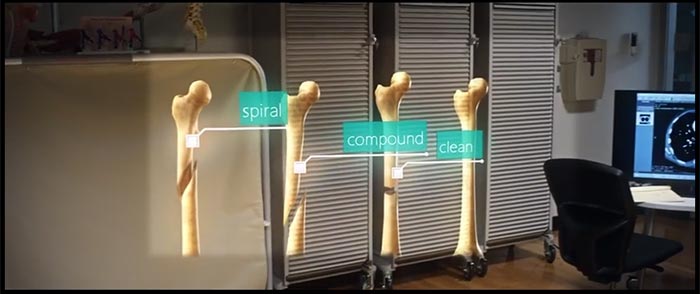 In other recent HoloLens news, Microsoft announced $500,000 in development grants, as five blocks of $100,000 and 10 free headsets, to researchers wishing to work on pushing the boundaries of holographic computing using HoloLens systems.