We recently questioned the sense behind the launch of the Apple TV network media player but, although our thinking remains unchanged, there's been a huge amount of interest in the product from hackers who've seen it as vehicle for bringing onto their TVs a whole lot more media (and features) than Apple itself allows for.

Although Apple TV might not be ultra cheap for a network media player (£199 in the UK; $299 in the USA), it's also a small and relatively inexpensive computer. It uses an Intel CPU running a cut-down version of the Apple OS X operating system and it's this Unix-based OS paired with a highly-affordable computer platform that's brought hackers flocking to do some interesting coding.

They've already produced hacks that let tinkerers do lots of things that the standard Apple TV can't. Many of these have been reported on the Something Awful forums, most notably in a thread headed, We just got xvid working on the Apple TV. But you won't have posting rights there - or search options or a number of other useful forum-features - until you've paid a one-off $10 subscription.

However, Apple TV Hacks is free - as is the AwkwardTV Wiki - and together they give an excellent overview of what's happened (including links and code) and what's likely to be coming next, in part driven by small bounty payments.

Latest development is a plug-in created by Eric Steil III that lets you browser for and play non-iTunes videos that are stored outside of the iTunes media library on the Apple TV's hard disk. Check out Eric's video here.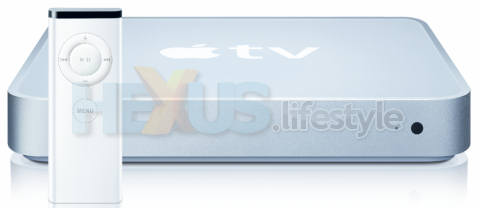 Other useful hacks include:


Attempts are also being made to let you Restore Apple TV to a USB-attached hard drive and there's a hack tutorial reckoned to make it possible to run the beta Joost network-TV app, though, currently, without support for fonts.

Oh, and a rather splendid inverted hack looks to let you run the Apple TV software on a Mac PC!

Apple TV Hacks has a wish-list of features it would like to see added and this takes in:



* A features-select menu - to give access to non-standard features being enabled for the Apple TV as well as access to the standard Apple TV interface
* A games menu - for simple games played using the supplied IR remote
* An RSS web-site news reader
* A record menu to make scheduled timer recordings



There's also a bounty of $500, put up by Sokol & Associate, for getting the open-source PBX phone system, Asterisk, running on the Apple TV.

To our way of thinking, none of this yet makes the Apple TV any more appealing to the mass market, simply because the product can only output via HDMI and component and Apple has still not made available any HD footage to play.

However, the efforts of the hacking community have given the product an additional appeal and could, if progress is maintained at the current rate, actually turn Apple TV into a very special and highly-desirable bit of kit in spite of Apple - though owners of SD TV will still need to pay out for a component-to-RGB adaptor, such as this £90 model sold by Keene.

That's why our own wish-list is topped by a hack to let the device work at no extra cost on standard-definition TV sets - by getting RGB coming from the Apple TV's component output. We'd also like to be able to connect a USB TV tuner for viewing and recording.

But what new features would make an Apple TV appeal to you? Share your thoughts in this thread in the HEXUS.community.


HEXUS.links
HEXUS.community :: discussion thread about this article
HEXUS.lifestyle - news :: Apple TV media player now available in UK. But why?
HEXUS.lifestyle - news :: Apple shows iPhone & HD network media player, changes name
HEXUS.lifestyle - opinions :: Apple movie downloads (US only) & network media player (yawn) - commentary on "special event"
HEXUS.lifestyle - news :: Microsoft Office 2008 for Mac is coming - but not right now
HEXUS.lifestyle - news :: Apple falls foul of Greenpeace for not being green enough
HEXUS.lifestyle - news :: Macworld San Francisco kicks off with launch of Roxio Toast 8

External.links
Apple TV Hacks - home page
AwkwardTV - Wiki
Something Awful forums - Home page
Perian - home page
Photobucket - Apple TV pulled apart (literally!)
Rogue Amoeba - Apple TV Surprises and Impressions
CyberSelect - JST Component (YUV) to RGB/VGA Converter
Keene Electronics - Aptus 2 component-to-digital converter

Apple UK - Apple TV home page
Apple UK - Apple TV specs
Apple UK - Apple TV - Connect Your TV
Apple Store UK - HDMI-to-DVI converter
Apple USA - QT Pro 7 tech spec
Apple UK - home page
Apple USA - home page