Amazon has announced that it will start selling its Fire TV Stick in the US from 19th of November. As you might guess from the name this is one of the increasingly popular HDMI sticks that provide Smart TV functionality to common-or-garden HDTVs. Just like the Fire TV set top box (STB), the focus is towards Amazon's streaming subscription services but you can also watch a selection of rival paid and free services such as Netflix, Hulu and YouTube via the device.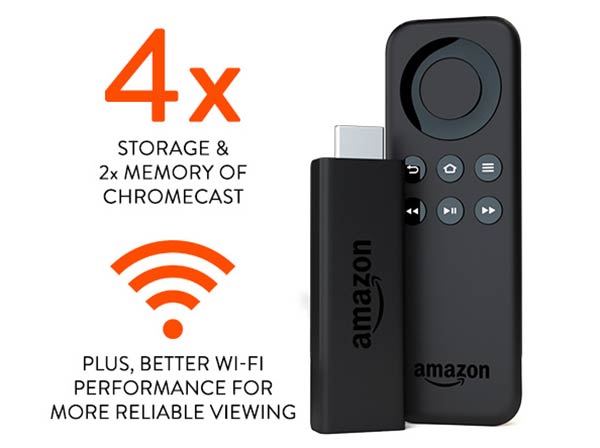 The PR blurb from Amazon starts by emphasising the extra power on offer in comparison to two other high profile streaming stick devices; the Google Chromecast and Roku Streaming Stick. I've embedded a comparison chart below, but in summary the Amazon Fire TV Stick offers more than double the processor cores, RAM and storage of either aforementioned competitor. It includes a remote but users are free to use an app on their smartphones as a remote, media guide and second screen - the same app supports voice search. The UI is the same as on the Fire TV STB and users can use features like 'Fling' to send media from their small to big screens.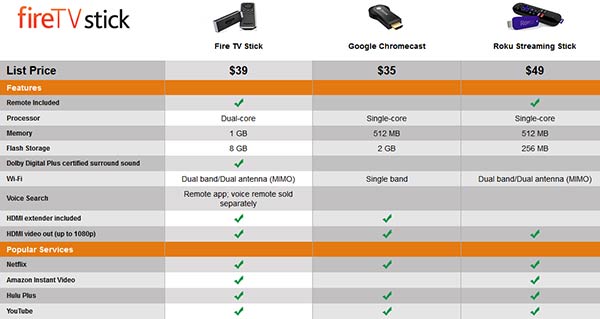 Amazon is also keen to point out that the Fire TV Stick supports more games than either competitor. On the subject of games the same optional games controller available for the Fire TV STB works with this device. However the company wishes to point anyone interested in spending much time gaming on the device towards the Fire TV STB which provides the "next level of gaming," due to its beefier specs.
"Fire TV Stick is the most powerful streaming media stick available - a dual-core processor, 1GB of RAM, 8GB of storage, dual-band and dual-antenna Wi-Fi, included remote control, voice search with our free mobile app, easy set-up, an open ecosystem, and exclusive features like ASAP for instant streaming," said Jeff Bezos, Amazon.com Founder and CEO. "The team has packed an unbelievable amount of power and selection into an incredible price point - Fire TV Stick is just $39."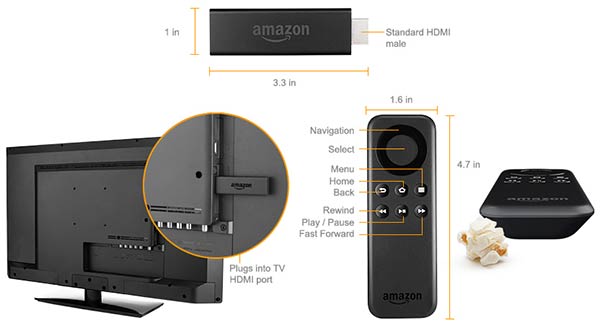 The Amazon Fire TV Stick is available for pre-order now at a limit of one per customer. Until 6:00 a.m. (PT) October 29, 2014 new and existing Amazon Prime members (even those who start a free trial) can get this HDMI stick for $19.