PC multimedia products garnered a lot of attention during CeBIT 2006.



Numerous manufacturers highlighted their wares, including plug-in adapters for digital TV broadcasts. One of the larger manufacturers, Compro, claims it captures (pun intended, folks) around 15 per cent of the add-in board market.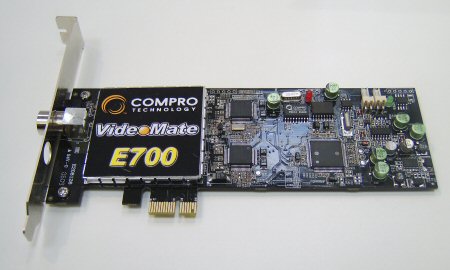 One of its most exciting products is the VideoMate E700 PCIe-based TV tuner card that features dual digital (DVB-T) tuners. It's perfect for Windows MCE and lets you watch a single broadcast and record another. Time-shift recording allows you to pause, rewind and forward whilst watching live TV. The E700 supports HDTV, naturally, and a funky remote control is included, too.

Compro, though, reckons its best feature is what it terms Power Up Scheduled Recording, whereby the system is automatically switched on, records your shows, and then is switched off. Great for when you're out of the house and don't want to miss your favourite programs.

Compro's PVR2 software, included in the package, allows you to watch picture-in-picture and picture-out-of-picture, offering up the opportunity of watching four digital feeds at the same time (two live and two recorded). We'll see how it pans out once we've reviewed it.