Want to relive the heartaches or triumphs of World Cups gone by? If you're the owner of a web-enabled BRAVIA TV, you're in luck as Sony has announced that it will stream the official FIFA World Cup Collection direct to consumers later this month.
Made available via the BRAVIA Internet Video channel, Sony's FIFA content will showcase the highs and lows of the previous 18 World Cup tournaments, as well as provide on-demand access to 14 official World Cup films.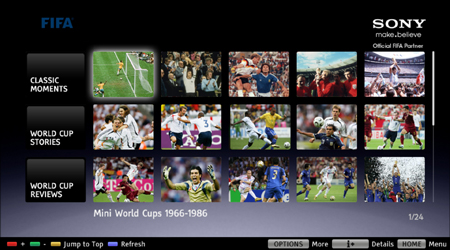 The FIFA World Cup Collection will be the latest batch of content to be added to Sony's BRAVIA Internet Video. Available to both web-enabled TVs and Blu-ray players, the service already provides on demand content from content providers Five and Lovefilm, as well as a vast selection of web-based media from services such as YouTube.
Commenting on the latest addition, Sony Europe's director of consumer marketing Christian Luecke said: "We are very excited to offer a catalogue of the FIFA World Cup Collection to consumers in time for the 2010 FIFA World Cup. Thanks to BRAVIA Internet Video and our partnership with FIFA, we can make some of the greatest football moments come to life in consumers' living rooms across Europe at the touch of a button."
The FIFA World Cup, held every four years, is repeatedly viewed as a peak sales period for audio-visual manufacturers, and analysts are again predicting a surge in TV sales in the weeks leading up to the 2010 event.
Sony will no doubt be hoping that its library of World Cup content and a combination of retailer promotions will help strengthen its sales in what's certain to be a busy period.
The library of FIFA content available via BRAVIA Internet Video is expected to grow, but Sony has confirmed the following launch material:
20 FIFA World Cup Moments
The Top 20 FIFA World Cup Moments counts down, in reverse order, the top 20 FIFA World Cup moments of all time. Eighteen tournaments in 76 years of competition have produced so many thrilling and memorable moments that this selection – the greatest and most famous – reflects our view of what captures the essence of FIFA World Cup magic.
14 Official Films from the 1930 – 2002 FIFA World Cups
From the tense last moments of "Goal", the colour record of England's only FIFA World Cup victory in an era when television was black and white, to the glorious sweep and drama of the 35mm filming of "Hero", the film of Mexico 86 which focused on Maradona's finest and most controversial hour, here are films which stand the test of time.
FIFA World Cups Stories, Legends and History Programme
A selection of short films reminding us of the debut of legendary players, celebrated moments and intense penalty shoot-outs.
A-Z FIFA World Cup Football Programme (music)
The A – Z of Football consists of 60-second vignettes of the most spectacular action from exclusive film footage from the 1954 – 2002 FIFA World Cups.
FIFA World Cup Classic Players
The "Classic Players" series celebrates 15 of the greatest players to have graced the world stage during the distinguished 76 year history of the FIFA World Cup.
FIFA Mini World Cups 1966-2006
Enjoy the highlights of each FIFA World Cup tournament, starting with the memorable 1966 finals in England and ending with the magnificent 2006 finals in Germany.