Teufel, Germany's most successful loudspeaker vendor, has today officially introduced its flagship stereo speaker, the Ultima 800.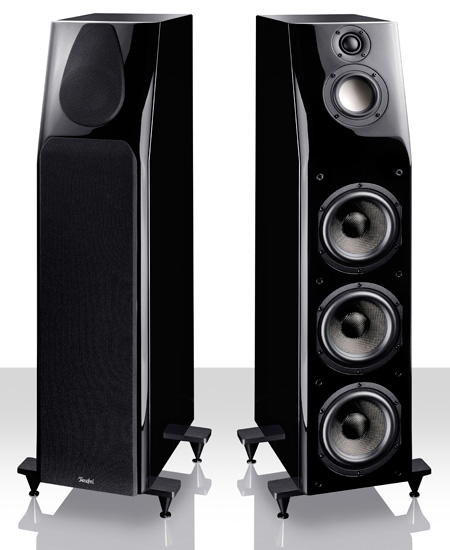 Described as "the absolute pinnacle of Teufel's technical abilities", the Ultima 800 claims to put Teufel's 30 years of high-end audio experience into an end product that combines "painstakingly-tuned speakers and electronic components" to create a sound that's "as monstrous as it is angelic".
Certainly sounds impressive - and HEXUS can attest to Teufel's claims. We've had the opportunity to listen to the Ultima 800 in action, and it is a breathtaking experience.
Measuring 220mm x 980mm x 374mm, each floor-standing loudspeaker commands attention and weighs a substantial 31.2kg.
That size is certainly put to good use, though, with Teufel incorporating a large 33mm fabric tweeter, a 100mm mid-range driver, four passive woofers and two active woofers in each cabinet.
Teufel's tweeter - equipped with a neodymium magnet and extra long excursion capability - promises ultimate quality at high frequencies, whilst the pure titanium membrane of the mid-range driver ensures "perfect frequency representation across its assigned frequency range".
The colossal woofer arrangement consists of six 170mm Rohacell Carbon sandwich-cone woofers, with two active and one passive facing forward. The remaining three passive woofers are mounted at the rear of the cabinet, "transforming the entire tower into a fluid, flexible space that moves and evolves with the air pressures within it," says Teufel.
Available in a black or walnut finish, Teufel's Ultima 800 is a no compromise solution that lead designer Andrea Guhde reckons "raises the bar in terms of affordable high-end stereo transducers".
The Ultima 800 are now available priced at £2,681 as a pair, and if you needed any additional incentive, Teufel claims "Ultima 800 has simply no peer at this price level". Bold claims indeed.
Official product page: Teufel.eu