Turning up the volume
German audio brand Teufel has been going strong in Germany for some time, but even in its domestic market market it has mostly slipped under the radar for one simple reason - its sales model.
Teufel is one of the only tech vendors to have stuck to the direct sales model, long after even Dell started to doubt its wisdom. Therefore Teufel doesn't crop up in the 'sales-out' figures researchers will get from retailers and etailers - which it doesn't work with - and hence goes largely unnoticed.
But having been apparently happy to succeed as a medium-sized German business for the past 30 years, it has decided it's time to expand internationally, with the UK its key target market. That's why it has invested in a UK-specific website instead of relying on its international one, which has just gone live. That's also why it invited UK journalists over to its Berlin HQ - and new showroom - recently.
HEXUS has been aware of Teufel for over a year now, and has reviewed some of its speakers. The marketing message is simple: due to the cost savings created by the direct model - it still only has around 100 employees - Teufel offers the best 'bang-per-buck'. I.e. your money gets you more speaker mojo than you get from its competitors.
But the big challenge of the direct model - especially for a company that sells a product that you can only really evaluate when you use it - is how to replace the retail experience that many consumers still require before committing their hard-earned wonga. As well as the showroom, which you can see below, Teufel allows its customers to send back, for full refund, any products within eight weeks of buying them.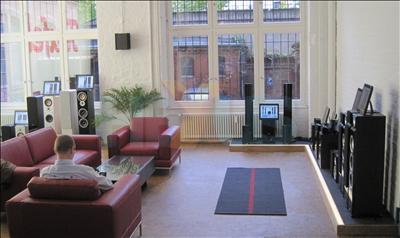 These two USPs make for a simple, coherent marketing message, but to find out a bit more about the challenges faced in marketing the direct model and international expansion, we spoke to Sven Soltau - the newly appointed chief marketing officer.
Soltau is an etailer - rather than an audiophile - by trade, although he did confess to being a big Jazz fan. His CV features the Otto group and eBay Germany, where his remit included the 'power sellers', as well as working as an incubator. "I started to get a real feel for Internet start-ups," he said, before revealing that it was the business model that appealed to him about Teufel.
"We're at the junction for international business," said Soltau. "In some categories we're the market leader over here, and if it works in Germany it should work elsewhere." Soltau's speciality is online marketing, but he revealed that this means a lot more than just Google keywords. A major tactic for Teufel is affiliate marketing, through which even the smallest blog can potentially earn money.
Asked why the UK is such an important market, Soltau said he sees it as the largest tech market in Europe, as well as one of the most developed when it comes to Internet use. Should be pretty easy to crack then, but apparently not. "The market is dominated by UK [retail] brands and is very aggressive," said Soltau. "If we can make it there we can make it anywhere."
Whether Teufel really does have something special to offer is for you, the consumer, to determine, although the one review we've done was pretty favourable. The consumer electronics market is set for an exciting period as the long-promised digital home looks finally set to happen thanks, in no small part, to the publicity around Google and Apple TV. So the potential rewards are great for Teufel if its international expansion is a success, and from what we saw it's pretty determined to make that happen.