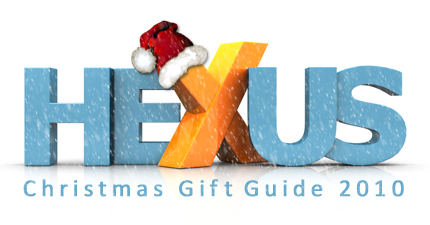 It's that time of year again. The HEXUS editorial team recently attempted a bout of Christmas shopping at Birmingham's Bullring, and the massive crowds coupled with the coldest November temperatures since 1985 have convinced us to realise an obvious truth; it's easier, warmer and more convenient to get your shopping done online.
To that end, the team has put heads together and come up with a series of 10 technology gift guides that we hope will help take the guesswork out of your 2010 Christmas shop. Over the next fortnight, we'll be suggesting a wide range of gear that we ourselves wouldn't mind finding under the tree come December 25th.
We've already had a look at notebooks, smartphones, tablets and a wide range of audio visual kit, and we're kicking off a new week by putting forth a couple of great gadget ideas for the home.
Gifts that hit the right notes



PURE EVOKE Mio by Orla Kiely

FM radio broadcasts won't be switched off for a few years yet, but there are already plenty of reasons to adopt a DAB radio. They can tune to all available stations automatically, they generally provide a greater choice of radio stations, sound quality is improved with less interference, and through radiotext you can see the name of the song you're listening to.

Helps that some of the current DAB radios are gorgeously designed, too. The PURE EVOKE-1S Marshall might appeal to the boys, but if you're treating a special gal, look no further than PURE's EVOKE Mio by Orla Kiely. Lavishley finished by the Irish fashion designer, this exclusive DAB radio features Kiely's signature stem print front and back, a mirror chromed folding handle, a walnut veneered cabinet and cream fascia. Both DAB and FM radio are supported, there's a connector for attaching an iPod/MP3 player, and an OLED display. We've been impressed with others in the EVOKE range and this fashion statement is unlikely to disappoint.

Price: £149 at johnlewis.com
Sonos ZonePlayer S5

When it comes to beaming music around the home, few gadgets are as revered as the Sonos Multi-Room Music System. Put a Sonos ZonePlayer in any room of the house, and the system's "SonosNet" wireless mesh network will allow you to push and synchronise music between rooms without interference from existing wireless networks.

A wide range of ZonePlayers are available, and the suggested S5 is an all-in-one solution that features two tweeters, two mid-range drivers and a subwoofer - each of which is powered by a dedicated digital amplifier. Plug it into a router and you get easy access to your personal music collection, as well as thousands of Internet radio stations and popular music services such as Last.fm and Spotify.

Things get even more interesting when you introduce additional ZonePlayers to other rooms in the house, and the entire system can be remote controlled using free apps for the iPod, iPhone and iPad. A Sonos home doesn't come cheap, but few multi-room music systems are as fun to use.

Price: £348.99 at dabs.com






Teufel Ultima 800

Do the words MP3, wireless and streaming leave you scratching your head? Then perhaps something a little more traditional, say, a pair of stereo speakers?

Not just any stereo speakers, mind you, we're talking about Teufel's Ultima 800. The floor-standing set touts the German manufacturer's "highest-quality stereo sound" and incorporates a large 33mm tweeter, a 100mm mid-range driver and six Rohacell carbon sandwich 170mm woofers. We've heard the set in action, and though we're far from audio experts, we can't think of a better way to listen to Nat King Cole's rendition of The Christmas Song.

If you're struggling to find the right stereo speaker system, here's a tempter; Teufel offers an eight-week return policy. Order your speakers, have them delivered, listen to your music on your own equipment for up to eight weeks, and if you're not quite convinced, Teufel offers a full refund.

Price: £2,598 at teufelaudio.com
Bringing photos to life
HP Photosmart Premium e-All-in-One Printer

Now armed with ePrint technology, HP's Photosmart Premium printer lets you print your documents from anywhere using an email-capable device. Once the printer is registered, send any document/picture to your chosen email address as an attachment and it'll print without the need for any cables or drivers.

Even if ePrint doesn't appeal to you, this all-in-one unit offers scan and copy functionality and can help save paper through double-sided printing.

Price: £94 at pcworld.co.uk

Kodak Pulse Digital Photo Frame

A recent survey has suggested that digital photo frames are the least wanted gifts, but owners of the Kodak Pulse might disagree. The web-connected frame has built in Wireless technology and can be linked to a Facebook account to automatically display up-to-date photos. The frame can be managed at kodakpulse.com, and its touchscreen controls can be disabled - making it ideal for technophobic parents.

Registering an email address allows you to send photos direct to the frame, and a user-defined on/off schedule prevents it from sapping power around the clock.

Price: from £69.90 at amazon.co.uk
Extending the media experience



Logitech Harmony 300i Universal Remote Control

A Logitech Harmony universal remote is always high on our Christmas wish list, but at £26.99, the entry-level Harmony 300i is an obvious stocking filler.

The most basic Harmony does have a few limitations - it can only control up to a maximum of four devices, there's no LCD display, no touchscreen, it isn't backlit and it isn't rechargeable - but if you're hoping to consolidate your multiple remotes with a single, sleek controller, the 300i is one of the best.

The remote works with over 225,000 devices and it's configured by an easy-to-use wizard on your PC or Mac. The "Watch TV" activity button is likely to be well used over Christmas - hit it and the remote powers up all your relevant equipment and selects the right inputs.

Price: £26.99 at scan.co.uk
Netgear XAVB2001 Powerline AV Adapter Kit

The trouble with having gadgets around the home is that it's often difficult to get web access in remote corners. If Wi-Fi isn't providing the coverage you need, Powerline adapters are a useful alternative. Plug one in to the mains and attach it to your router, and it'll use your home's electrical wiring to send data to a second homeplug in another room. It's easy, clutter-free and convenient, and can bring a solid connection to rooms that tend to drop off the wireless radar.

Adhering to the HomePlug AV specification, Netgear's XAVB2001 kit is capable of speeds of up to 200Mbps. You should expect slower real-world performance, but this Powerline kit could be a great way of connecting the Blu-ray player in the living room to the router in the study.

Price: £75.80 at scan.co.uk
Synology DiskStation DS210+ NAS

Network-attached storage is one of those things that you're never quite sure you need, and then when you have it, you're never quite sure how you went without.

Many of the gadgets featured in our gift guides stand to benefit from centralised storage, and whether you're a home or business user, few two-bay units offer as good a mix of features, performance and usability as Synology's DiskStation DS210+.

The sleek-looking unit offers a wealth of data backup facilities, and if you're eyeing it up as the centre of your multimedia experience, you'll be well served by a built-in DLNA media server, an iTunes server, and arguably the best NAS operating system; DiskStation Manager 3.0.

Price: £288.79 at dabs.com
HEXUS Christmas Gift Guides 2010