Apple has release an update for its Apple TV set-top box, introducing a new home-screen interface and support for a number of iTunes features including iTunes Extras and iTunes LP.
The updated software, now at version 3.0, is the latest in a long run of incremental updates for Apple TV and promises to provide "a simpler and faster interface that gives you instant access to your favourite content".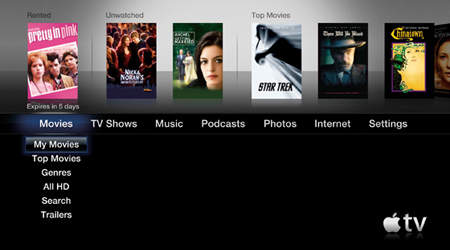 In addition to the revamped main menu (pictured above), Apple TV now offers most of the desktop functionality introduced in iTunes 9 back in September. Hoping to deliver a complete media experience, features such as iTunes LP and iTunes Extras incorporate music and movies, respectively, with added content such as lyrics, artwork, deleted scenes and more.
Another recent iTunes feature, Genius Mixes, is also now available directly through Apple TV, as is the ability to listen to Internet radio.
Sound like features you might find useful? The update should appear as an automatic update the next time you power up your Apple TV unit.