Taiwan's PC-TV specialist, Compro Technology, has today introduced its VideoMate Network Media Centre T1000W to the UK market.
The set-top box, pictured below, has an awkwardly-long name but provides a number of potentially useful features in its 270mm x 180mm x 180mm frame. With Compro's custom GUI, it acts as a home media server, a digital TV recorder and BitTorrent client, too.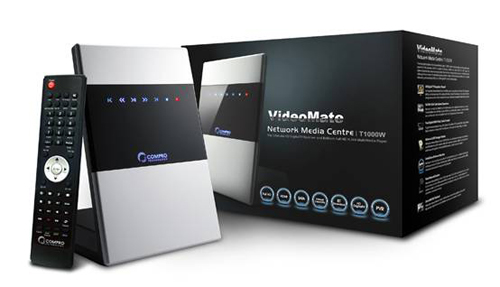 Inside, there's a so-called "powerful processor" that's capable of delivering a full-HD 1080p output, and Wireless b/g or Ethernet connectivity to keep the unit connected.
There's HDMI, Component, Composite or S-Video connectivity options, and a SATA connection for use with a 3.5in hard drive. It's passively cooled, and near-silent as a result, and Compro reckons it'll play the majority of video formats following forthcoming firmware updates.
We've yet to see it in action, but at £200 from SCAN.co.uk, it presents an interesting alternative to the increasingly popular Popcorn Hour.
Compro details the unit's specification as follows:
Digital TV
DVB-T
Video Container
AVI, MPG, ISO*, VOB*, IFO*, MOV(H.264), TS, ASF, MKV
Video CODEC
MPEG 1 / 2 / 4, WMV9(MP@HL), H.264(HP@4.0), AVCHD, VC-1(MP@HL)
Resolution
Up to 1920 x 1080p
Audio
MP3, WMA,PCM
Photo
JPG
Connectivity
USB 2.0 Host 3 Ports, 10/100 LAN, Wireless Antenna, TV Antenna
Video Connectors
HDMI, Component, Composite, and S-Video
Audio Connectors
HDMI (share with video), S/PDIF, and Toslink
HDD
3.5" SATA, up to 1TB
LAN
10/100 Mbps RJ-45 and 54Mbps 802.11b/g wireless network connections
Subtitle
SRT, SMI*, SUB*, SSA*
File System
EXT(Read / Record), FAT32 and NTFS (Read only)

Dimension
270 (H) x 180 (W) x 180 (D) mm
*Through future firmware updates.
Official press release: Compro Technology, says the all new HD Player "VideoMate Network Media Centre" goes into UK market