All of a sudden, a selection of hardware manufacturers are having mercy on UK consumers that might be feeling the pinch of the well-publicised credit crunch.
Earlier this week, it was Cooler Master who slashed prices across its product range in an effort to supposedly "help out enthusiasts". Today, it's Compro Technology's turn, and the Taiwanese manufacturer is handing out free VideoMate K100 Windows Media Center remote controls to anyone who'll buy a Compro VideoMate E650 PCIe TV Tuner.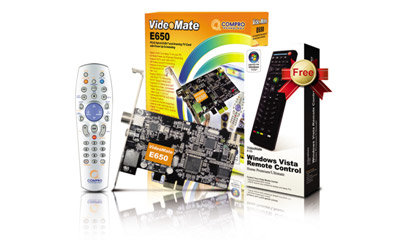 The tuner itself is a hybrid PCIe DVB-T and analogue TV/FM capture card that's Windows Vista certified and supplied with Compro's own ComproDTV 2 software.
Priced at £40.22 from Scan.co.uk*, it doesn't seem a bad little deal. As with Cooler Master, however, it could be that Compro's products just aren't selling as well as they'd hoped, and free remote controls might lure in more customers.
Compro calls it an "unprecedented promotion" and warns that there are only 160 of these promotional bundles in circulation. "No more time to wait, buy now", it adds.
Official press release: Watching TV on Your PC, What a Bargain! Buy Compro VideoMate E650, Get MCE remote Free!
* As always, UK-based HEXUS.community discussion forum members will benefit from the SCAN2HEXUS Free Shipping initiative, which will save you a further few pounds plus also top-notch, priority customer service and technical support backed up by the SCANcare@HEXUS forum.