Good news for Apple TV users today, as the device that promises to "entertain the possibilities" has been given another software update.
Version 2.3, available for free via Apple TV's settings menu, adds four new features that you'll be amazed weren't available to begin with.
The first is "Music Volume Control", allowing users to adjust volume whilst listening to music. That's joined by playlist support for movies, TV shows and podcasts, support for third-party remote controls and the ability to stream music from Apple TV to other Apple devices in the home via AirTunes.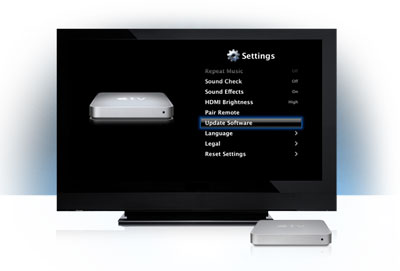 The updates are a welcome addition, but it might remove certain custom functionality - users who've loaded up Apple TV with non-Apple software (say Boxee or XBMC, for example) are likely to find their customisations disappear following the software upgrade.
Source: Apple.com