Sonos has finally launched two long-awaited additions to its wireless multi-room music system; the ZonePlayer 120 and ZonePlayer 90.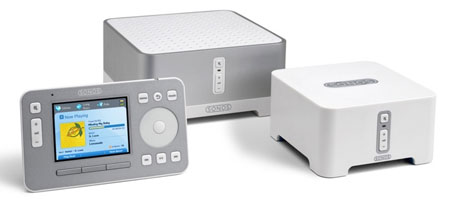 The new ZonePlayer 120 packs an integrated amplifier and has still managed to shrink drastically in size. Sonos states that advances in power supply and industrial design have helped make the ZonePlayer 120 over 40 per cent smaller than the previous ZonePlayer 100.
It's a whole lot lighter, too, weighing only 2.3kgs. Despite its deceiving proportions, it manages to deliver a reasonable 2 x 55 Watts per channel RMS at 8 Ohms.
The ZonePlayer 90 misses out on the integrated amplifier but can be connected to all your usual audio equipment.
The key upgrade to both players, however, is SonosNet 2.0. The latest version of Sonos' wireless mesh technology uses MIMO antennas to extend its wireless range. In addition, its desktop software has been upgraded to version 2.6, and offers support for more audio tracks, as well as the added bonus of $200 worth of free music downloads.
Phil Abram, president and chief operating officer at Sonos, said:
Sonos' mission is to fill every house - and every room - with music. These new products continue Sonos' heritage of blending the latest technology, software and user experience to create an unmatched music experience in the home.
The new ZonePlayers and software upgrades are a welcome addition, but we'd hoped Sonos would deliver something a little more special. The expensive controller hasn't been improved, and we'd love to see a smaller, lighter, touch-screen alternative.
The ZonePlayer 120 retails at £349 and the ZonePlayer 90 at £249. The best deal, however, is the Sonos Bundle 150 which includes the ZonePlayer 120, ZonePlayer 90 and Controller, all for £699. It's a cool piece of kit, but it's still very pricey.
Official press release: SONOS INTRODUCES THE SONOS ZONEPLAYER 120 AND SONOS ZONEPLAYER 90
Official product page: Sonos.com