Taiwanese manufacturer of TV tuners, Compro Technology, has announced that its latest TV tuner card, the all-singing all-dancing VideoMate Vista E900F, will be available in the UK later this month.
The E900F, pictured below, is a PCI-E tuner with dual DVB-T and analog TV/FM card functionality. It features an on-board Philips processor, providing hardware MPEG-1/2/4 encoders and hardware noise reduction.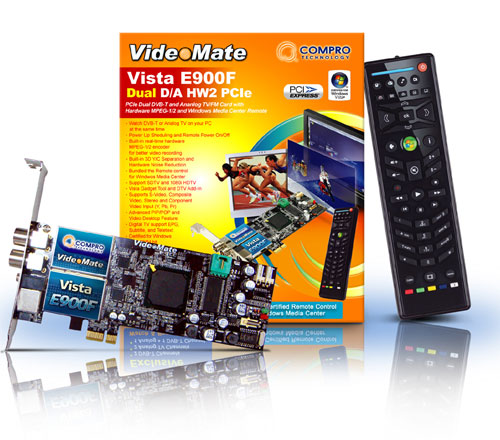 The tuner can receive 1080i broadcasts where available, so you can look forward to tuning into BBC HD, and it'll work in both 32-bit and 64-bit editions of Windows Vista.
It'll come bundled with a Microsoft-certified remote control, and Compro's DTV software. Showing some extra love for Vista, Compro also throws in a Sidebar Gadget that'll let users watch live TV, check listings and schedule recordings - though, that gadget only works with Vista 32-bit, bummer.
Nonetheless, Compro describes the VideoMate Vista E900F as "the most professional TV card choice for the video enthusiasts", and gives it this lengthy list of key features:
Dual DVB-T and universal analog TV reception with FM radio
Dual hybrid TV tuners provide D+A, D+D, or A+A viewing and recording simultaneously
The advanced NXP (Philips) dual-channel multimedia processor comes with hardware MPEG-1/2/4 encoders, PAL & NTSC 3D Y/C Separation, and Hardware Noise Reduction
Bundled with Microsoft certified remote control for Windows Media Center of Vista Premium/Ultimate and ComproDTV 4
All-new ComproDTV 4 software with Vista Gadget, DTV Add-In, and Windows Media Center schedule recording list integration.  ( Vista Gadget & Compro DTV Add-In are meant for Vista 32 bit operation system only)
High-Speed PCI Express x 1 interface for improved performance
Digital TV supports SDTV and 1080i HDTV (where available)
Supports SAP(MTS/NICAM)/Stereo in analog TV
Compro exclusive S5/S4/S3 mode Power Up Scheduled Recording
Supports Dual tuner scheduled recording
Convenient remote controlled power on/off
Hardware timeshifting for instant live TV replay with minimal CPU utilization
Advanced PIP/POP feature can open up to 6 TV channel windows
Video Desktop can setup the live TV screen as wallpaper
Customisable channel order, properties, and my favourite channel list
Straight-to-Disc recording for analog and digital TV
MPEG-2/Transport Stream record/playback in digital TV
Supports digital EPG, subtitle, & Teletext (not support MHEG-5 in UK)
Splits recording file size for different media in analog TV (only under software encoding)
Supports Composite, S-Video and Component (480i ~ 576p) input
Certified for Windows Vista 32/64 bit
Compro tells us the E900F will be readily available in the UK market by the end of this month, and early indications point to an £85 price-tag.
Official product page: comprousa.com/en/product/e900f