Amazon has launched the Fire TV Cube in the US, with pre-orders starting immediately. The device is, as the name would suggest a set top box which infuses Alexa smarts and voice controls and thus delivers many Amazon Echo style smart functions, in addition to helping you find and watch TV shows and films.
The three key attractions of the new device, according to Amazon, are as follows:
Amazon Fire TV Cube makes it easy to use Alexa to find and watch your favourite TV shows and movies, hands-free from across the room
Use your voice to play, pause, and resume content within your video apps; plus, Netflix joins a growing list of popular apps with enhanced Alexa voice control on Fire TV
With eight microphones and the advanced beamforming technology pioneered in Echo devices, use your voice to check the weather, listen to the news, control compatible smart home devices, and more—even with the TV off.
Even with your TV off, with the new Amazon Fire TV Cube you will be able to say the command "Alexa, play Billions on Showtime" and the device will power on your TV and start playback right where you left off. Tens of thousands of channels, apps, and Alexa skills - plus thousands of movies and TV shows - are viewable via the Fire TV Cube and services such as Netflix, Prime Video, Hulu, ESPN, Fox Now, Showtime, Starz, PlayStation Vue, CBS All Access, and NBC. Remember, there are no particular key phrases you are required to use to command Alexa, it is a natural language understanding product.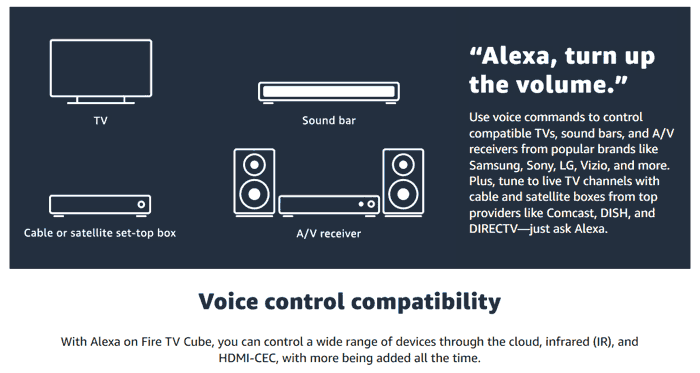 Enhancing the easy accessibility of Alexa in the Fire TV Cube are the array of eight far-field voice recognition microphones. Audio beamforming tech allows Alexa to hear you over background noise like current content playing to hear your requests clearly. Amazon promises that your Fire TV Cube will get smarter over time as new features and hands-free voice functionality are added regularly OTA. Many Alexa apps are now optimised for big screens, so rich visual information will be a quick command away - quickly accessing your smart home camera feeds, video briefings, sports scores, weather forecasts, trailers for movies playing locally, and so on.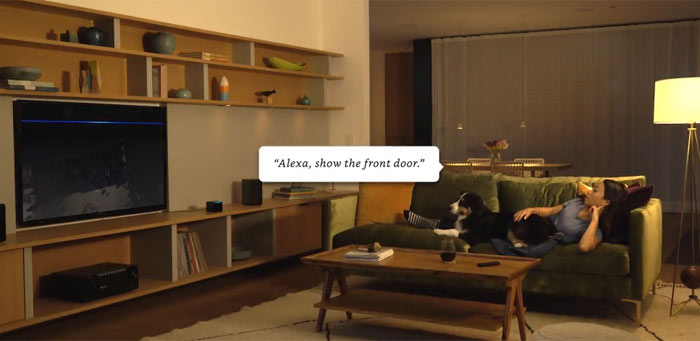 On the topic of tech specs, the internals of the Fire TV Cube sound very similar to those of the Fire TV. It is based upon a quad-core processor that runs at up to 1.5GHz (ARM 4xCA53), with Mali450 GPU, and 2GB of RAM. However the Fire TV Cube benefits from its built-in speaker, far-field voice control of TV and compatible smart devices in your house, Ethernet adaptor provided in the box, and double the built-in storage (16GB). Ports on the Cube include; HDMI 2.0a, Power, Micro USB, Wired Infrared support. The Wi-Fi is Dual-band, dual-antenna Wi-Fi (MIMO) with 802.11a/b/g/n/ac support. Amazon's Fire TV Cube device measures 86.1 x 86.1 x 76.9mm (3.4 x 3.4 x 3.0-inches) and weighs 465g.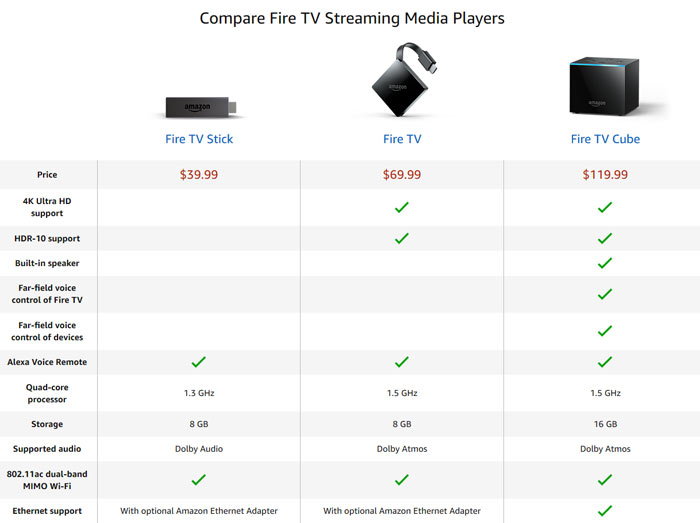 There is an IR extender cable, and Ethernet adapter, PSU, voice remote, and AA batteries in the box alongside your Fire TV Cube. The US pre-order price is $119.99, or $199.98 when bundled with the Cloud Cam. Shipping should commence from 21st June. Prime members can pre-order the Amazon Fire TV Cube today or tomorrow for $89.99. We have no information about pricing and availability outside of the US.