Upgrade your Apple TV to version 2.0
Apple TV users are in luck today. The fairly average device has today taken a turn for the better with the release of software version 2.0 which brings movie rentals and more to Apple's media-on-your-couch device.
Originally announced at Macworld in January, the software update will bring features such as movie rentals, a built-in music store, access to Flickr photostreams and .Mac Web Galleries - all part of the free update.
Apple TV units are set to check for updates on a weekly basis, if you haven't had your dose of version 2.0 yet and you're in a hurry, head over to the settings menu and choose software update, that ought to do the trick.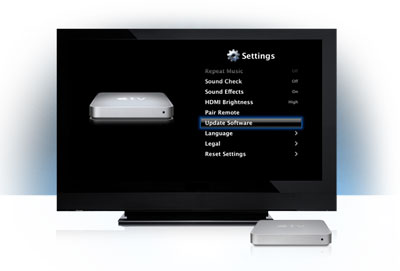 The update weighs in at approximately 200MB and should take about 5 minutes to download, and then a little longer to install. Once you've got it, you'll be able to select 1080p output (finally!), and access iTunes' movie rentals store directly from your TV - without the need for a computer.
As is usually the case with Apple, there's a lovely guided tour at the official Apple website.
Source: Apple.com/appletv