Share the love. Share music. Share Zune.
Essentially, this 80GB Zune is still an 80GB Zune. But, in the spirit of Saint Valentine, Microsoft has made a red heart-coloured edition of the 80GB Zune available for Valentine's Day.
Microsoft is going to have to be careful with this new loving image it's creating for itself, people might actually start believing that the monstrous corporation has a heart!
I'm really liking the Valentine's Zune though, particularly the custom engravings and artwork available from Zune Originals.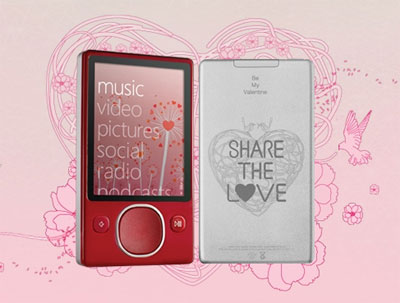 Had the Zune been available in the UK, I could have seen myself picking one of these up. Oh well, nevermind.
Just in case you wanted to hear it, here's Microsoft's take on the Valentine Zune:
"Red Zune 80GB and New Collection of Artwork Debut on Zune Originals Customisable gift options and themed playlists from Zune Marketplace help consumers share the love this Valentine's Day.
Responding to consumer excitement for the Zune 80GB, Microsoft is making the popular wireless media player available in red via Zune Originals, just in time for Valentine's Day. Inspired by the themes of love and sharing, an exclusive collection of 20 new laser-engraved designs will also be available to consumers for a limited time at the Zune Originals Web site. Zune Marketplace will also feature Valentine's Day themed playlists that can be shared with friends or loved ones via Zune-to-Zune wireless sharing or the Zune Social online music community."
Official product page: Zune.net