iTunes gets movies, Apple TV gets cheap(er)
We've had Time Capsule and software upgrades for Apple's iPhone and iPod, what next? Movies, movies, movies.
Jobs was clearly proud to talk about iTunes Movie Rentals, for which Apple has teamed up with just about every major studio. 20th Century Fox, Walt Disney, Warner Bros., Paramount, Universal Studios, Sony Pictures, MGM, Lionsgate and New Line Cinema are all on board. Quite the line-up.
Launched today in the US, the iTunes Movie Rentals aims to offer 1,000 titles by the end of February and plans are in place to roll the service out to other regions later in the year.
iTunes Movie Rentals are priced at $2.99 for library titles and $3.99 for new releases, high definition versions are available at at $3.99 for library titles and $4.99 for new releases. Once a title is rented, a user will have 30 days to start viewing and once a movie has been started, 24 hours to finish watching it (as many times as they want).
The big feature available in the latest version of iTunes is that of accessibility. Users who rent movies via the iTunes Movie Rentals service will be able to watch them on their Macs, PCs, iPods, iPhones and on their big screen TVs via Apple TV.
"iTunes Movie Rentals instantly brings great movies from all the major studios directly to your iPod, iPhone, TV or computer - without having to drive to the video store or wait for DVDs to arrive in the mail," said Jobs. "Movie lovers can now discover and enjoy movies as simply and easily as music lovers discover and enjoy music today on iTunes."
Continuing on the movie front, Jobs revealed a software update for Apple TV which allows users of the device to rent movies directly from the iTunes store, without the need for a connected computer. Not wanting to stop there, the Apple TV now ships at a lowered price of $229 for the base model.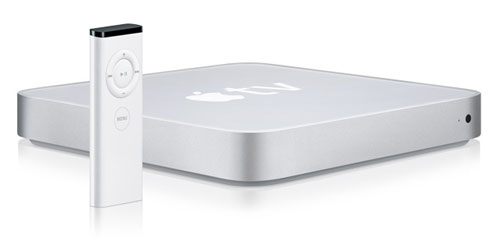 "With the new Apple TV and iTunes Movie Rentals, movie lovers can rent DVD-quality or stunning HD movies from their couch with just a click of a button," he said. "No more driving to the video store or waiting for DVDs to arrive in the mail."
Furthermore, the new Apple TV software also allows users to view photos stored on their computers or online at .Mac and Flickr. Keeping the online connectivity in the spotlight, Jobs revealed that users can also access podcasts, videocasts and YouTube content directly on Apple TV.
Giving partial credit to the competition, Jobs stated that the likes of Microsoft, Netflix, Blockbuster, Tivo and indeed Apple themselves had all previously tried to get web-based movie content delivered to the TV, but had all missed the goal.
Last but not least on the movie front, iTunes Digital Copy, a feature which provides customers who purchase a DVD with an additional Digital Copy of the movie that can then be transferred easily to iTunes. The first DVD to feature the technology will be "Family Guy Presents: Blue Harvest", available in stores as of today.
Though Twentieth Century Fox are keen on the iTunes Digital Copy technology, it remains to be seen which, if any, additional studios adopt the idea. Either way, move over Blu-Ray and HD-DVD, digital distribution is moving fast.
Official press releases:
Twentieth Century Fox & Apple Introduce iTunes Digital Copy
Apple Introduces New Apple TV Software & Lowers Price to $229
Apple Premieres iTunes Movie Rentals With All Major Film Studios