Yoshi Yamada, Panasonic's chairman and CEO, kicked off the pre-CES press conference with the usual bout of company-related back-slapping for a successful 2007.

Panasonic, he said, was the first company to sell an HDTV set in the USA, back in August 1998, and the company was committed to understanding the needs of the consumer better. He cited the 'living with high-definition' film, where 17 families are given a whole host of Pansonic HD-capable equipment - from TVs through to camcorders - and detail their HD experiences.

Cutting to the meat of the presentation, Shiro Kitajima, president of Panasonic's consumer electronics business unit, underscored Pansonic's support for Blu-ray, Secure Digital slots across its range of products, and rebranding of the VIERA range of flat-panel TVs.

VIERA will now encompass all flat-panel sets between 26-103in, comprising of 16 models in 2008, of which four will carry THX-certified sound.

Two new models of note are the TH-46PZ850 plasma (below) and TC-37LZ800 LCD, which are new screen sizes for the VIERA range. Both feature VIERA Link- providing control over various enabled devices through a single remote.

Both, too, also feature an integrated SD slot, offering easy transfer and playback of material, be it from a camcorder or camera.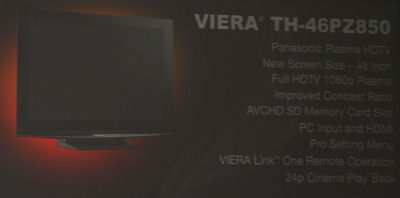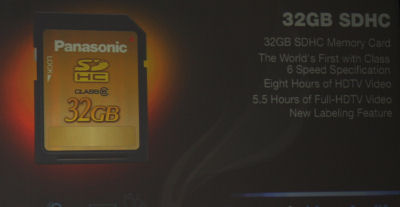 Complementing the slots was the announcement of a 32GB SDHC card that's able to store up to 5.5 hours of full-HD (1080p) video. The Class 6 speed referenes the transfer speed, which is 20MB/s in this case. No word on pricing, however.




Another first, Panasonic claimed, lay with the release of the SC-BT100 home-theater kit. Its standout feature is the inclusion of a Blu-ray player that supports Bonus View - aka Final Standard Profile (v1.1)  - for the full gamut of Blu-ray features.




Situated next to a slim LUMIX camera is the all-new HDC-S9. It's the world's smallest full-HD (1080p) camcorder and boasts a three-CCD system, the Panasonic-standard SD slot,  and Leica Dicomar lens. It'll be launched in March 2008 and ship for $799.99 (£500?).




Ever suffered from sporadically poor mobile-phone reception at home? Panasonic reckons it has the answer with its KX-TH1211 cellphone extender. Working off tried-and-trusted Bluetooth, simply position your mobile in an area where reception is good and the unit carries the signal to the supplied handset, ensuring decent coverage in hard-to-reach areas such as your basement.

The unit can hook-up to three mobiles and will cost £99.99 (£60?) when launched in a couple of months' time.

All HEXUS CES 2008 content