T500F and U2800F make the most of Vista Media Centre
Compro Technology, developer and manufacturer of multimedia products, today announced two new devices to add to its Media Centre arsenal in the form of a TV tuner card and USB tuner stick. Both devices are expected to reach retail later this month.
The VideoMate Vista T500F, a hybrid digital TV and analog TV tuner card with Vista MCE remote, supports DVB-T or universal analog TV watching and recording in Vista Media Centre. Aimed at Windows Vista users, the Compro VideoMate Vista T500F comes complete with a Vista sidebar gadget that allows users to watch live TV, check schedules and recordings directly on the Vista sidebar.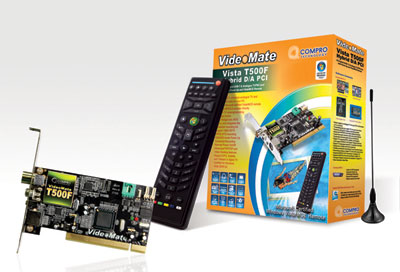 VideoMate Vista T500F key features:
Watch DVB-T digital TV or analog TV and listen to FM on your PC
Worldwide analog TV (NTSC/SECAM/PAL) reception
Bundles Vista MCE remote to controls ComproDTV and Vista
Included Microsoft certified MPEG-2 encoder support TV watch/record in Media Centre of Vista Premium/Ultimate 
All-new ComproDTV 4 software with Vista Gadget Tool, MCE Add-In, and integrate the scheduling list from MCE
All-new ComproDTV 4 supports multiple Compro TV card/box devices which allow you to install, watch, and record at the system
Supports SAP (MTS/EIAJ/NICAM/A2) and stereo audio input
Timeshift to pause and instant replay of live TV
Compro exclusive S5/S4/S3 mode Power Up Scheduled Recording
Convenient Remote Controlled Power On/Off
Support SDTV and 1080i HDTV (where available)
Advanced PIP/POP feature allows up to 5 windows watch including one playback recorded video file, 1 main and 3 sub digital TV channels watch at once
Video Desktop to setup the live TV screen as wallpaper mode
Straight-to-Disc recording to VCD and DVD discs
Customise Brightness, Hue, Saturation, Contrast, Sharpness, and TV/audio format in each analog TV channel
Customise channel order and my favourite list
Digital TV Support EPG, subtitle, Teletext (not support MHEG-5 UK Digital Teletext Service) 
Single/Multiple still frame captures and remote snapshot
Support MPEG-1/2/4 in analog TV and video capture
Capture analog video from Composite or S-Video
MPEG-2 and TS record/playback in digital TV
Supports digital radio reception (not DAB type)
Certified for Windows Vista 32/64 bit
The second device, Compro's VideoMate Vista U2800F Hybrid D/A Stick, is a USB 2.0 interface hybrid DVB-T and universal analog TV/FM reception tuner stick. The tuner stick comes complete with a card-design remote control certified for Windows Vista. As with the tuner card, the U2800F comes complete with a Vista sidebar gadget that allows easy access to the device's features.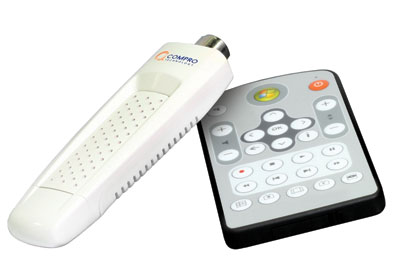 VideoMate Vista U2800F key features:
Watch TV on laptop or desktop PC with USB 2.0 interface
Hybrid digital terrestrial or analog TV/FM reception
Worldwide analog TV (NTSC/SECAM/PAL) reception
Included Microsoft certified MPEG-2 encoder support TV watch/record in Media Centre of Vista Premium/Ultimate  
Bundles card-design MCE remote control with USB IR receiver
All-new ComproDTV 4 software with Vista Gadget, MCE Add-In, and integrated the scheduling list from MCE
All-new ComproDTV 4 supports multiple Compro TV card/box devices which allow you to install, watch, and record at the same system
S3 (standby)/ S4 (hibernation) mode power up scheduling
Support SDTV and 1080i HDTV (where available)
USB bus powered, no external power adaptor required
Timeshift to pause and instant replay live TV
Advanced PIP/POP feature allows up to 5 windows watch including one playback recorded video file, 1 main and 3 sub digital TV channels watch at once
Video Desktop to setup the live TV screen as wallpaper mode
Straight-to-Disc recording to VCD and DVD discs
Customise Brightness, Hue, Saturation, Contrast, Sharpness, and TV/audio format in each TV channel
Customise channel order and my favourite list
Digital TV Support EPG, subtitle, Teletext
(not support MHEG-5 UK Digital Teletext Service) 
Single/Multiple still frame captures and remote snapshot
Support MPEG-1/2/4 in analog TV and video capture
Capture analog video from Composite or S-Video
MPEG-2 and TS record/playback in digital TV
Vista/MCE remote control for ComproDTV 4 and Media Centre 
Supports digital radio reception (not DAB type)
Certified for Windows Vista 32/64 bit
Official press releases
Having fun in your media center with Compro VideoMate Vista T500F
Experience your first complete Media Center with Compro VideoMate Vista U2800F Hybrid D/A Stick