PRESS RELEASE
Access your favourite TV shows LIVE through your Android device, from anywhere in the world!
Adoption of Google's Android platform is growing at a staggering pace, with the company having announced that 190 million devices have been activated worldwide.*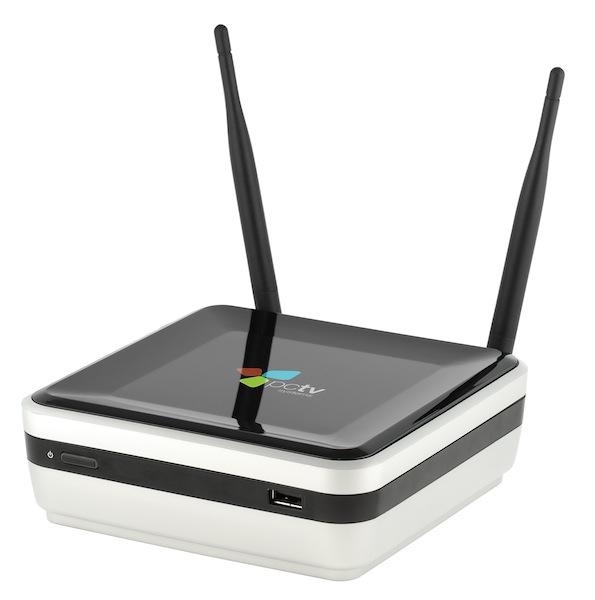 If you are one of the millions of users, how would you like to watch your favourite TV programme, live sports event, or follow your beloved football team live, no matter where you are in the world?
With PCTV's Broadway you can rest assured that you will never have to miss the next episode of your favourite TV programme or the next Champions League clash again! Don't let IP address restrictions stop you like other services do when you're abroad.
Broadway allows users to redirect their home TV and personal video content to their Android device (version 2.2 and above with Adobe Flash capable browser), anywhere in the world. All personal home content and TV channels are accessible via the web browser anytime and anywhere in the world1, without the need for any third party apps or any additional purchases.
"While travelling in a foreign language country you can simply connect to the internet with your mobile device and watch your home Freeview or Satellite set top box TV live. It even gives you freedom in your own house by letting you watch TV via Wi-Fi on your mobile device, at no additional subscription - it's that simple," said Yehia Oweiss, Vice President of Sales EMEA of Hauppauge Digital.
The Broadway 2T is available from £199.99
Bridging the Gap between TV and the Internet
Connect wirelessly.
Send Live-TV or video signal feeds via internet to host device.
Sophisticated MPEG-4 H.264 hardware compression.
Integrated 802.11n WLAN for wireless streaming of television signals to host device.
No additional software (app) required.
Control your home content; schedule recordings, play pre-recorded content.
Audio/Video input to turn mobile device into a remote surveillance solution by connecting analog camera.
* http://www.eurodroid.com/2011/10/14/google-190m-android-phones-in-circulation-today/
1) Internet connection required
About PCTV Systems
PCTV Systems (www.pctvsystems.com) is specialised in developing high value cutting-edge TV solutions for PCs and MAC computers. All PCTV products are distributed by Hauppauge.
About Hauppauge Digital
Hauppauge Digital, Inc. is a leading developer of analog and digital TV receiver products for the personal computer market. Through its Hauppauge Computer Works, Inc. and Hauppauge Digital Europe Sarl subsidiaries, the Company designs and develops analog and digital TV receivers that allow PC users to watch television on their PC screen in a resizable window and enable the recording of TV shows to a hard disk, digital video editing, video conferencing, receiving of digital TV transmissions, and the display of digital media stored on a computer to a TV set via a home network. The Company is headquartered in Hauppauge, New York, with Hauppauge_Avid_11272008 administrative offices in Luxembourg, Ireland and Singapore and sales offices in Germany, London, Paris, The Netherlands, Sweden, Italy, Spain, Singapore, Taiwan and California. The Company's Internet web site can be found at http://www.hauppauge.com.