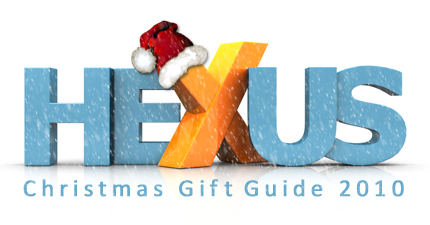 It's that time of year again. The HEXUS editorial team recently attempted a bout of Christmas shopping at Birmingham's Bullring, and the massive crowds coupled with the coldest November temperatures since 1985 have convinced us to realise an obvious truth; it's easier, warmer and more convenient to get your shopping done online.
To that end, the team has put heads together and come up with a series of 10 technology gift guides that we hope will help take the guesswork out of your 2010 Christmas shop. Over the next fortnight, we'll be suggesting a wide range of gear that we ourselves wouldn't mind finding under the tree come December 25th.
Today we're tackling gifts for friends and family who're always on the move. Know a frequent flyer? Have a friend who likes to keep fit outdoors? Here's a selection of gift ideas that travel well.







Amazon Kindle 3G

The latest Kindle eBook reader is smaller and lighter than ever, and it's a perfect gift for bookworms. Kindle's E Ink Screen won't strain the eyes, and it's perfectly readable in bright sunlight. The battery will last up to a month from a single charge, and you'll certainly need to it to get through the 480,000 books available from the Kindle store. The 3G model provides free wireless access, allowing you to download books as you travel in over 100 countries. Built-in Wi-Fi will help keep you connected in areas outside of the Kindle's global zone, and with the ability to store up to 3,500 books, you'll never be short of reading material.

Price: £149 at amazon.co.uk
Plantronics Voyager PRO+ Bluetooth Headset

The successor to the award-winning Voyager headset features the ability to stream music, podcasts or GPS directions though A2DP technology, and it still offers the comfort and sound quality you'd expect from a high-end Plantronics headset. Backed by a genuine six hours of talk time and user-friendly controls, it's ideal for the business user who needs a clear, crisp and dependable connection to their smartphone.

Price: £49 at amazon.co.uk

Livescribe Echo 8GB SmartPen

They say the pen is mightier than the sword, and thanks to LiveScribe, they might be right. The Echo SmartPen contains an ARM processor, an OLED display, up to 8GB of memory, an embedded microphone and speaker, and a high-speed camera that captures over 70 images each second. The technology combines to let the user digitally record, archive and share written or vocal notes. Once you've used the pen's "replay" feature, you'll wonder how you lived without it.

Price: from £165 at amazon.co.uk



Kingston DataTraveler Ultimate USB 3.0 Pen Drive

Few gadgets are as useful as a USB pen drive, but if you're in need of a solution that combines capacity and performance, take a look at Kingston's DataTraveler Ultimate. Making use of a USB 3.0 interface, the pocketable storage solution is capable of read and write speeds of up to 80MB/s and 60MB/s, respectively. That's twice as quick as USB 2.0. The drive is backward compatible, but remember you'll need a PC with a USB 3.0 socket in order to get the best performance available. Prices start at under £50 for a 16GB model and rise to £140 for a range-topping 64GB drive.

Price: from £48.75 at scan.co.uk


Garmin Forerunner 110

Hands up, how many readers will have "lose weight" on their list of new-years resolutions? If you're hoping to shed the pounds or just improve your overall fitness, a GPS-enabled watch can be a great motivational tool. Garmin's Forerunner 110 is one of the simplest to use, and it's small enough to pass as an everyday watch. GPS lock-on is quick, and whether you're cycling, running or just walking, the Forerunner 110 will let you know how far you've gone, how long it has taken and how fast you're moving. It's a great motivator, and your workouts can be synchronised with a PC or Mac for a detailed performance breakdown and the ability to see your route on Google maps.

Price: £127.99 at amazon.co.uk



Apple iPad nano

It might be Apple's smallest and lightest iPad nano to date, but it manages to squeeze in a 1.5in multi-touch display and FM radio. iTunes fans can look forward to Genius playlists, and with an integrated clip, it's ideal for use whilst on the move. It's pricey at £129 for an 8GB model, but there's a free engraving option and a choice of seven colours. One each for the kids?

Price: from £129 at store.apple.com

Sony W252 Wearable Walkman

A great companion to the Garmin Forerunner 110, Sony's W252 Wearable Walkman lets you take your music on the run without the fuss of tangled wires. The MP3 player is built directly into the headset, and with 2GB of memory it's able to store roughly 500 songs. It's water resistant - making it great for use at the gym - and the 11hr battery is unlikely to run out of steam before you do.

Price: from £49.99 at amazon.co.uk
HEXUS Christmas Gift Guides 2010