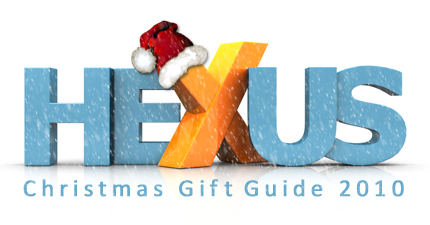 It's that time of year again. The HEXUS editorial team recently attempted a bout of Christmas shopping at Birmingham's Bullring, and the massive crowds coupled with the coldest November temperatures since 1985 have convinced us to realise an obvious truth; it's easier, warmer and more convenient to get your shopping done online.
To that end, the team has put heads together and come up with a series of 10 technology gift guides that we hope will help take the guesswork out of your 2010 Christmas shop. Over the next fortnight, we'll be suggesting a wide range of gear that we ourselves wouldn't mind finding under the tree come December 25th.
Today we turn our attention to cameras and camcorders. The right choice can make for an excellent gift, but if you're in need of a point in the right direction, here's our pick of what's hot in video and photography.






Flip Ultra HD

There's no shortage of pocket camcorders to choose from, but when it comes to simplicity and ease of use, few are as accessible as the original Flip.

The third-generation Ultra HD, pictured left, allows for one-touch 720p HD recording at 50 frames per second, enough storage for up to two hours of footage, and built-in image stabilisation. It won't let you capture stills, and there's no SD card expansion slot, but the Flip Ultra HD remains a great choice for users who want a camcorder that shoots high-quality video with minimal fuss. A great choice for parents who need to quickly capture the kids in action.

Price: £149 at jessops.com


Oregon Scientific ATC9K HD Action Camera

The Flip's great for mums and dads, but if you know someone who's into extreme sports, take a look at the Oregon Scientific ATC9K HD Action Cam.

It might look like a baby's toy, but this bad boy is capable of capturing 1080p HD video at 30 frames per second, and it comes bundled with various mounts that allow you to attach it to anything from your bike to your surfboard. The camera is shock resistant and waterproof up to 20m, and features a built-in G-sensor to let you know exactly how many G's you're experiencing. An LCD display lets you review footage on the go, and by hooking up the optional GPS receiver, the ATC9K can also use Google Maps to trace your speed, distance and location.

Price: £249.99 at oregonscientific.co.uk
Sony Cyber-shot DSC-W320

Sony's Cyber-shot DSC-W320 might measure just 17.3mm thick, but this pocket-sized shooter packs a 14.1-megapixel CCD sensor, a 26mm wide angle lens, a 6.7cm LCD display, face detection and an Intelligent Auto mode that dynamically adjusts exposure to suit the scene.

Compact, easy to use and available in four eye-catching colours. Can you ask for much more at under £100?

Price: £99 at jessops.com

Fuji Finepix F70EXR

Fuji's F70EXR is the smallest digital camera with a 10x optical zoom, and it touts a 10-megapixel, 1/2-inch Super CCD EXR sensor to boot. A regular favourite since its introduction late last year, this Finepix is both easy to use and able to cater for the budding photographer with manual modes that let you control the aperture and shutter speed.

Other features include CCD-shift dual image stabilisation, Face Detection 3.0, a 2.7in LCD, a 27mm wide-angle lens and a unique Film Simulation mode.

Price: £199 at jessops.com
Olympus PEN E-PL1

A DSLR that looks more like a compact? That's the Olympus Pen E-PL1.

Using the mirror-less Micro Four Thirds system, the PEN is smaller and lighter than a traditional DSLR but manages to house a high-resolution Live MOS sensor that'll shoot 12.3-megapixel stills or 720p HD video. The feature list includes ISO sensitivity of up to 3,200, mechanical image stabilisation, a built-in Flash and a Live Guide mode that helps beginners get familiar with terms such as exposure and aperture.

Price: £349 including 14-42mm Lens at jessops.com

Panasonic HDC-SDT750

Taken the plunge and picked up a 3D TV? You might be in need of three-dimensional content, and the good news is that you can now create your own with Panasonic's HDC-SDT750 3D camcorder.

The handheld features a 3MOS sensor, a Leica Dicomar lens with 12x optical zoom, and can capture standard full-HD 1080p footage onto an SD memory card. Things get interesting when you attach the 3D conversion lens. Doing so will lower overall image quality and prevent the use of optical zoom, but it'll allow you to record right-eye and left-eye images simultaneously through its two lenses.

Price: £1,069 at johnlewis.com






Nikon D3100

If you're serious about getting into photography, you've probably already decided that a DSLR is the right choice for you. There's a vast selection available, but beginners might want to take a look at Nikon's latest entry-level offering; the D3100. Priced at £429 with a 18-55 VR Lens, this affordable digital SLR sports a new DX-format, 14.2-megapixel CMOS image sensor, one-touch full-HD video recording with AF, an eleven-point autofocus system, Live View, and an excellent Guide Mode that'll help beginners get to grips with DSLR photography.

Price: £429 including 18-55mm VR Lens and £40 cashback at jessops.com


Canon EOS 60D

Moving up the DSLR ladder, Canon's mid-level EOS 60D boasts an 18-megapixel APS-C CMOS sensor, Canon's DIGIC 4 image processor and a 9-point cross type AF System. This is the first EOS camera to offer a flip-out vari-angle LCD, and it offers a Live View mode as well as the ability to capture full-HD video - albeit with manual focus.

Fitting right in between the EOS 550D and the semi-professional EOS 7D, this award-winning addition to the Canon range should deliver excellent results and enough features to keep the budding photographer occupied for years to come.

Price: £899 including 18-55mm IS Lens at jessops.com



Nikon D7000

Going up against Canon's EOS 60D is Nikon's latest introduction, the D7000. This impressive camera is a step up from the venerable D90 and has a spec-sheet that'll leave enthusiastic photographers eager to part with their cash. The highlights include a new 16-megapixel APS-C CMOS sensor, a new EXPEED 2 image-processing engine, a new Multi-CAM4800DX autofocus sensor that tracks 39 points, an expanded ISO sensitivity range of 100 to 25,600, two SD memory card slots, and the ability to record full-HD 1080p video at 24 frames per second with autofocus. It's hot on many a photography wish list.

Price: £1,299 including 18-105mm VR Lens at jessops.com
HEXUS Christmas Gift Guides 2010