Plug n play
AMD held a press event designed primarily to promote the graphics capabilities of its 780G chipset this week, aimed mainly at the mainstream lifestyle media.
HEXUS managed to barge its way in regardless and, as well as interviewing VP of product and platform marketing Leslie Sobon, which we will bring to you shortly, we also spotted this unexpected peripheral.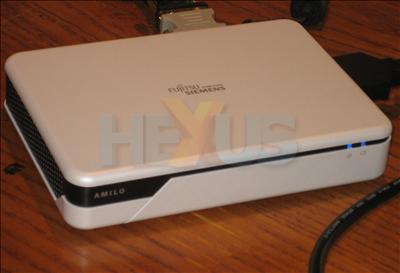 It's based on an AMD technology codenamed 'Lasso', and is essentially an external graphics card. AMD wasn't able to give us any details on it as this is a Fujitsu-Siemens (FSC) product, but we first spotted Lasso in early 2007, when we observed it had the capability to house multiple graphics cards.
A source at FSC told us that it is not yet available to buy and they weren't able to confirm a launch date, but it clearly works as it was set up between an FSC laptop and a monitor, using proprietary connectors and supposedly boosting the graphics performance.
The Lasso product won't be sold separately when it is eventually launched, rather it will be bundled with Amilo S notebooks. The usage model seems to be for people who want a relatively small and light laptop but want to be able to use it as a higher-end gaming system too.
Do you think there is a market for such a device? Would you buy it when it becomes available or are you more likely to just buy a gaming notebook? Let us know in the HEXUS.community.