Asustek has just shared its latest set of quarterly results with investors. Overall the results were positive, as is the outlook, despite losses incurred by its mobile phone business. Of course Asus's PC business is its largest and most profitable segment, and it has shown improved profits and operating margins in Q2. To peep at the full set of figures you can download the 2019 Q2 investor release via the Asus Investor Relations pages here.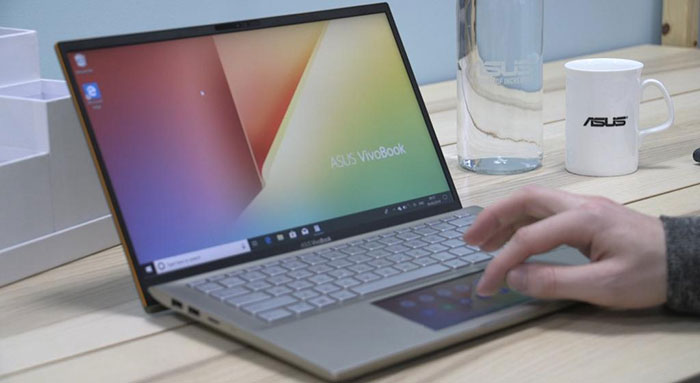 Areas of growth are wisely going to be in focus for Asus going forward into Q3. It sees good potential in; Gaming laptops, thin & light laptops, and in gaming phones. It is also interested in developing its creator and professional markets - and if it follows the industry playbook will be doing so by repackaging gaming laptops without the go faster stripes and bling.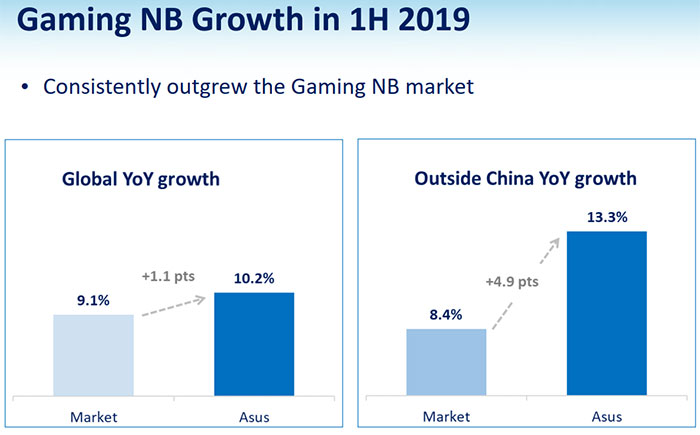 Asus gaming laptop sales performance outpaced the market in H1 2019. Outside of China the gaming laptop market grew 8.4 per cent, while Asus gaming laptops sales grew 13.3 per cent in the same period, compared to a year previously.
A similar story unfolded in the thin & light laptop market in H1 2019. Asus thin & lights account for 57 per cent of its laptop sales. In YoY growth terms Asus has outpaced the market with an impressive 40 per cent gain, against the market's 27 per cent gain in this premium segment.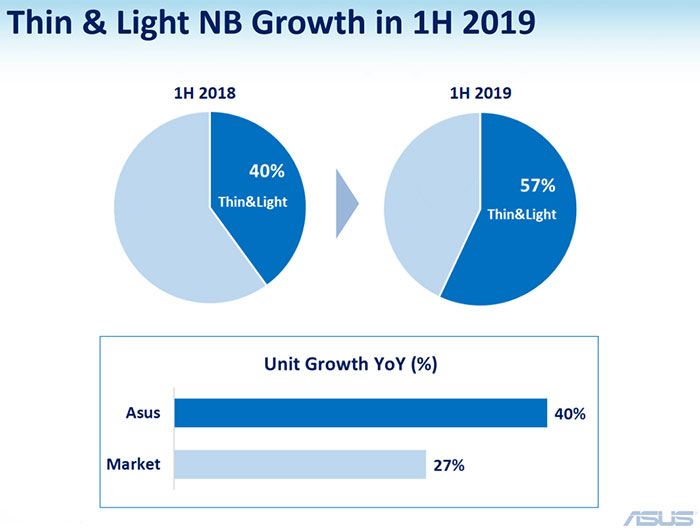 Both gaming laptops and thin & lights command a premium price compared with standard laptops and have probably been instrumental to Asus's operating margin improvements.
Looking forward to Q3 2019, Asus sees the quarter providing a 20 per cent uplift in PC and laptop sales, and a 15 per cent uplift on PC component sales (both QoQ figures).
Asus was upbeat in its discussion of the recently launched RoG Phone 2. Thanks to this new gaming device Asus has seen "strong gains in the gaming phone market," where it expects to be market leader within three years. The Asus CEO told investors that over 2 million pre-orders have been made for the new gaming phone. However, currently its mobile phone business is making losses (loss of NT$1.09 billion (US$34.60 million) last quarter).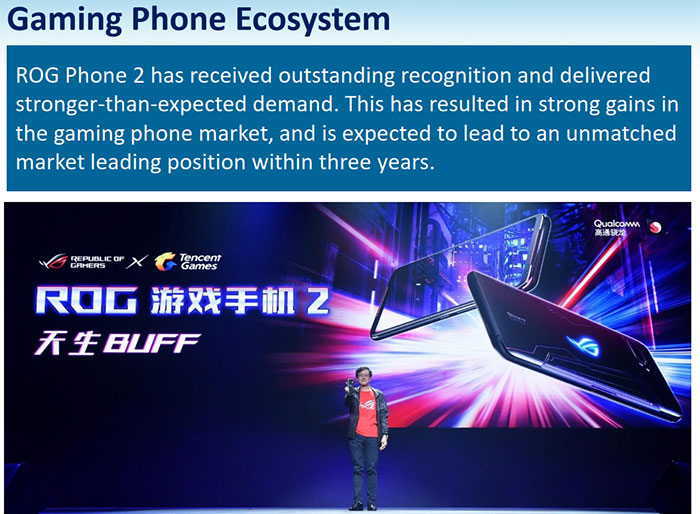 The US-China trade dispute was a topic of interest for investors. Asus is a Taiwanese company but has quite a lot of manufacturing in China so has been implementing various measures to reduce possible trade-war impacts. For example - Asus is building up stock in the US (2 to 3 months worth), and has been negotiating with suppliers to relocate production plants. Any such changes will inevitably raise costs / prices but might be wise going forward.