Later this week McDonald's restaurants in Sweden will be packing its 'Happy Meals' in cardboard boxes that can easily be converted into 'Happy Goggles'. If you've previously read about the Google Cardboard virtual reality headset you will know exactly what the new McDonald's promotional packaging transforms into – a red and golden arches branded 'Cardboard' VR headset.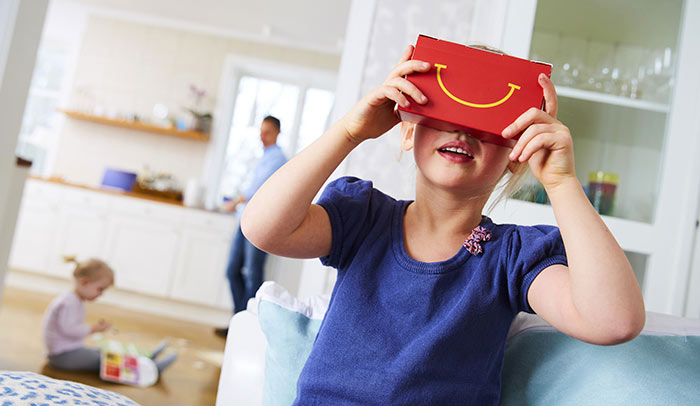 McDonald's Sweden says that it has redesigned the Happy Meals box to move with the times. It aims to ensure that "the World's most famous box will continue to be magical and relevant to families for another 30 years." The limited edition box comes complete with instructions, and there's even a YouTube video (in English, embedded below) to show you how the transformational magic, from burger and fries box to VR HMD, is done.
Of course there's more than just a bit of cardboard origami involved here. Your Happy Goggles box will contain the essential ingredient of a VR lens pack with holder frame to accommodate your smartphone. The Happy Goggles limited edition pack promotion starts on 5th March, ending on 12th March. Only 3,500 such boxes are being supplied and spread among 14 restaurants in Sweden, reports AdWeek. You will have to splash out approximately $4.10 to get a qualifying Happy Meal.

McDonald's hasn't stopped with the 'hardware', it has also created a special ski-themed VR game called 'Slope Stars' to help launch its promotional campaign. As the headset is basically a Google Cardboard in red and yellow livery, this game should be compatible with other such headsets and Happy Goggles users should be able to enjoy the numerous apps/viewers that support Google Cardboard.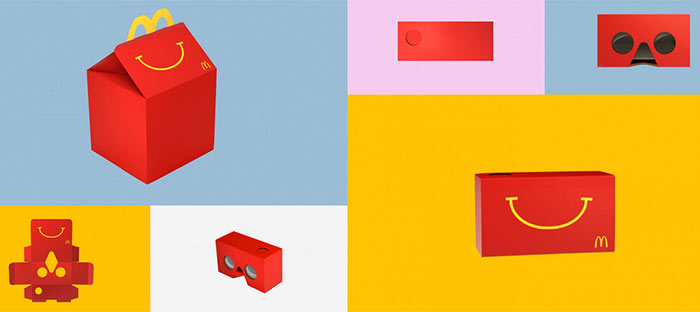 If the promotion proves popular other regions might get Happy Goggles to go too. If not I can see these burger, fries and gherkin scented boxes becoming pricey collector's items - but probably not as pricey as any of the 'serious' VR headsets.