There are reports that some fake, or at least mislabelled, AMD processors are being sold via Amazon in the UK. ComputerBase (via Tom's Hardware) says customers are being sold older/cheaper AMD processors with the heatspreader or lid from the desired processor stuck upon them. If the dodgy trader is hoping the purchaser won't notice they aren't doing such a good job as some unlucky buyers say that the fake processors don't even have the correct pins to interface with an FM2+ socket. Forcing an incompatible processor/socket marriage could be very bad for both sides of the union.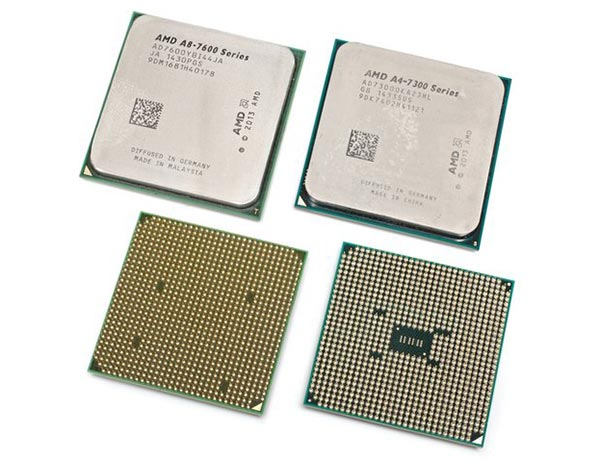 Faked AMD A8-7600 APU (left) real AMD A8-7600 APU (right)
The target of this fakery right now seems to be the AMD A8-7600 APU. When ordering this processor a number of Amazon buyers have been sent a re-lidded Athlon 64 X2 5200+ AM2 processor, it seems. Looking though the listings there are a very limited number of reports of fakery, just two out of the five people who were bothered to review their purchase complained about the dupe attempt.
Computerbase reports that the AMD A8-7600 APUs as sold were in full official looking packaging including a holographic seal. It adds that the heatspreader replacement was done in a way that a layman wouldn't see any evidence of tampering.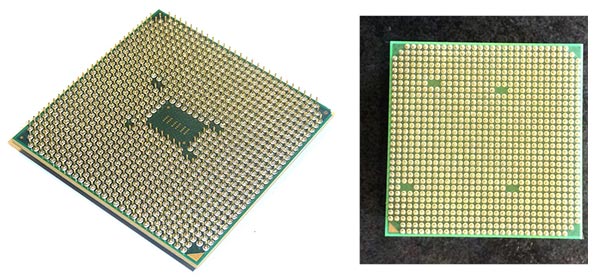 An AMD A8-7600 APU from Hexus labs (left) and one of the Amazon fakes (right)
In a statement to Tom's Hardware AMD described this fakery as an "isolated incident". The chipmaker said it would investigate further to find the source of the products and use any legal means to put a halt to this dodgy trading. It is working with Amazon and UK police "to conclude this incident quickly and ensure that the rigorous quality and reliability standards that AMD is known for are maintained".
If you have bought an AMD product you can check its authenticity, even before you open the box, by following AMD's guide here. It's also good to buy from an established (e)retailer you trust with a good reputation for hassle free returns.