Tesco has announced the closure of its free TV streaming service, Clubcard TV. The supermarket giant cites a lack of interest from its Clubcard community in the UK as the main reason that the service will end. This news, concerning the service's closure, comes just 18 months after its launch.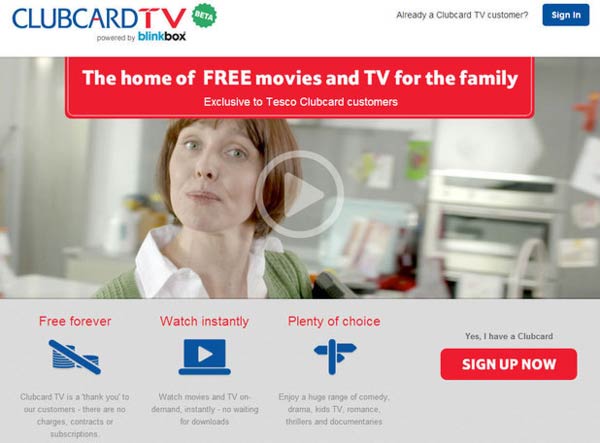 'Free forever'
Tesco has made the decision to close the ad-supported Clubcard TV streaming service from 28 October. The streaming service was offered 'exclusively' to customers with free Tesco Clubcard accounts and granted its users access to movies and TV shows. Clubcard TV is powered by the supermarket giant's own Blinkbox on-demand streaming service and launched back in March 2013.
"We've learnt a lot since launching Clubcard TV in March 2013 and whilst many enjoyed our free service, we weren't getting the level of repeat usage we had hoped for," a company representative explained on its support site. "You can still access entertainment through Blinkbox Movies which offers the latest blockbuster films and hit TV shows without subscription. You can rent or buy and watch instantly on loads of devices."
Even though the service offered a good range of media content for users to watch without any subscription fees, it never took off. In parallel Tesco's Android smartphone plans were recently shelved in order for the company to focus on its follow-up to last year's largely successful Hudl tablet, the Hudl 2. The new tablet is set to be unveiled on 3 October, and is expected to come equipped with an 8-inch display.
Tesco is likely to push for Hudl owners to subscribe to Blinkbox this time around, instead of highlighting the free Clubcard TV service. Clubcard members will still be able to earn Clubcard points on purchases from Blinkbox Movies, the company said.